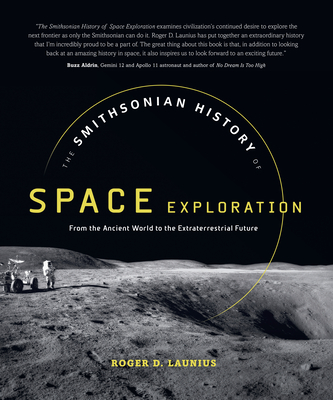 The Smithsonian History of Space Exploration
From the Ancient World to the Extraterrestrial Future
Hardcover

* Individual store prices may vary.
Description
The first in-depth, fully illustrated history of global space discovery and exploration from ancient times to the modern era

The Smithsonian History of Space Exploration is a comprehensive history of international space exploration paired with photographs, illustrations, graphics, and sidebars on key scientific and technological developments, influential figures, and pioneering spacecraft. Former NASA and Smithsonian space curator and historian Roger D. Launius presents human's endeavors to understand the universe, honoring millennia of human curiosity, ingenuity, and achievement.

The book examines space exploration's origins in the pioneering work undertaken by the ancients of Greece, Rome, and China, and moves through the great discoveries of Renaissance thinkers including Copernicus, Galileo, and Kepler. It offers new insight into well-known moments such as the launch of Sputnik 1 and the Apollo Moon landing and explores the unexpected events and hidden figures of space history.

Presenting the technological and mechanical breakthroughs enabling humans to explore far beyond our own planet in recent decades, it also speculates on the future of space exploration, including space tourism and our possible future as an extraterrestrial species. This is a must-read for space buffs and everyone intrigued by the history and future of scientific discovery.
Praise For The Smithsonian History of Space Exploration: From the Ancient World to the Extraterrestrial Future…
"The Smithsonian History of Space Exploration is an ideal gift book" —Christian Science Monitor

"Space historian Roger D. Launius recounts the thousands of years that mankind has attempted to learn more about the universe in a fully illustrated history of global space discovery and exploration from ancient times to modern era." —USA Today
 
"A generously illustrated, wonderfully detailed survey of space exploration by a Smithsonian curator who was also a chief historian of NASA for more than two decades. On every page, stunning photographs provide a visual history of the incredible people and mechanics behind each groundbreaking advance, setting this volume apart from others. Readers of all ages will discover something new every time they revisit these pages. Part history, part nostalgia, part cutting-edge science, this entertaining book reminds us of the magnitude of space flight—and hints at what's to come." —Kirkus Reviews, starred review
 
"This oversize offering is a space nerd's dream come true. Whether used as a beginning point for research (no source notes, alas), a lure for browsers, or an irresistible read for fans of strange new worlds (to infinity and beyond!), this will make a handsome addition to popular science collections." —Booklist
 
"Reminds readers that almost anything humans have envisioned, they've accomplished" —Space.com
 
"The Smithsonian History of Space Exploration examines civilization's continued desire to explore the next frontier as only the Smithsonian can do it. Roger D. Launius has put together an extraordinary history that I'm incredibly proud to be a part of. The great thing about this book is that, in addition to looking back at an amazing history in space, it also inspires us to look forward to an exciting future." —Buzz Aldrin, Gemini 12 and Apollo 11 astronaut and author of No Dream Is Too High
 
"Roger D. Launius has written a wonderfully clear history of space flight and space programs. For thousands of years, humans have looked to the skies for guidance, understanding, and spiritual comfort. Questions still stand, however: Why do we have space programs, and why is space exploration so important to our species? The answer is age-old: we do it because exploration is one of our driving needs. This interesting and concise book gives us the full story of space exploration in very readable form and helps us understand how we got to where we are today." —Al Worden, Command Module Pilot for Apollo 15 and author of Falling to Earth
 
"How, in the span of a single lifetime, did human beings develop and use the technology to leave their home planet and explore the universe? With his expert knowledge of space history, Launius conveys the extraordinary saga from its earliest beginnings through its spectacular triumphs and stinging failures to our ongoing struggle to become a multiplanet species." —Andrew Chaikin, author of A Man on the Moon
 
"It's all here! In The Smithsonian History of Space Exploration, Launius provides brief and authoritative vignettes of every conceivable facet of the space enterprise, accompanied by many evocative images that capture the adventure of humanity's push off its home planet." —John M. Logsdon, Space Policy Institute, George Washington University
Smithsonian Books, 9781588346377, 400pp.
Publication Date: October 23, 2018
About the Author
ROGER D. LAUNIUS is former associate director of collections and curatorial affairs at the Smithsonian National Air and Space Museum. From 1990 to 2002, he served as chief historian of NASA. He has authored and coauthored numerous books, including Hubble's Legacy.