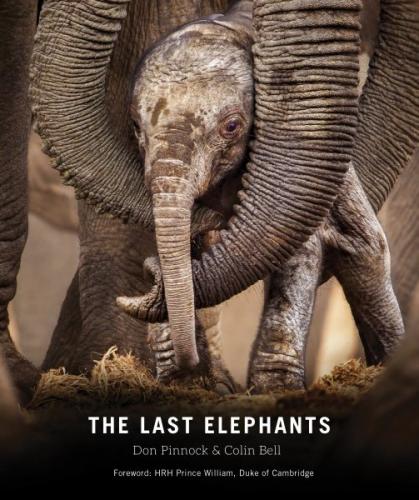 The Last Elephants
Paperback

* Individual store prices may vary.
Description
Amazing photographs of elephants accompany narratives from researchers, scientists, and conservationists celebrating elephants and calling for their preservation

African savanna elephants--among the most magnificent and beloved of our fellow mammals--are an extraordinary, social, and intelligent species. The Last Elephants, an homage to these animals and a clarion call for their preservation, is based upon a shocking finding: savanna elephant populations across Africa are being decimated, with two to three murdered every hour for their ivory. Without action, these elephants soon will vanish from our world. They are a species in imminent danger of extinction, and it is up to us to save them.

Featuring more than 250 full-color photos of the breathtaking animals by some of the world's top wildlife photographers, The Last Elephants was inspired by the devastating results of the continent-wide Great Elephant Census of 2016, undertaken by Elephants without Borders in tandem with the world's most prominent conservation groups. The book joins together the voices and vision of scientists, lawmakers, rangers, conservationists, and on-the-ground researchers to speak out against elephant killings, to close loopholes in international law that allow the ivory trade to continue, and to pay tribute to the thousands who work to protect the animals, including African communities who have elected to preserve and protect their elephant neighbors. Offering both profiles of preservation plans that work and hope for elephants' future, this is a must-read for everyone concerned for the future of one of Earth's most captivating species.
Praise For The Last Elephants…
Booklist, starred review
When a 2016 census of Africa's elephants revealed that the numbers had plummeted to fewer than 450,000 for the entire continent, bush-guide Bell and journalist Pinnock conceived of a book that would bring the elephants' plight to a general audience through narratives and photographs. Requesting commentary from people on the ground who deal with elephant issues daily, the authors have produced a stunning look at the perilous state of our largest land mammal. Opening chapters focus on continent-wide issues, the romance of the big tuskers, and the illegal wildlife trade. Sections then cover specific countries, from Botswana to Zimbabwe, and run the gamut from failure (bad government policies, rampant poaching) to success (private reserves and national parks, flourishing local programs). The passion of the various contributors rings through even the plainest prose, which, supported by an extensive bibliography and illustrated with magnificent photographs, awakens a similar sense of caring and urgency in the reader. As Prince William says in the foreword, at the current pace of poaching, the wild African elephant could be gone by 2040. Bell, Pinnock, and their fellow authors hope to prevent that, and this powerful book certainly makes the case. —Booklist, starred review

Publishers Weekly
In this comprehensive volume of essays and extraordinary photos, environmental activist Bell and journalist Pinnock (Wild as It Gets) call attention to the threat posed to elephants by poachers. The authors give voice to the people working daily to preserve savanna populations and provide a platform for wildlife photographers to showcase eye-opening images from Africa. The text deals with elephants' value both to the environment and to poachers, emphasizing that pachyderms are "constant gardeners" whose "feeding habits create microhabitats for smaller creatures." In addition, they are "major tree pruners... composting machines and fertilising agents." Other sections focus on attempts in recent decades to halt the reckless slaughter of elephants and to significantly curb the trade in ivory, for centuries used variously in "piano keys, artistic carvings, cutlery, daggers and jewellery." Bell and Pinnock conclude with ways to mitigate the problem, offering a list of NGOs to support and discussing what the reader should and should not do to help. Bolstered with striking, sometimes magnificent images of elephants in their native environs, this collection proves to be marvelously informative and widely appealing. With more than 250 color photos. (Apr.)

Library Journal
Galvanized by the 2016 Elephants Without Borders census, environmental journalist and photographer Bell and environmental advocate Pinnock leveraged their vast social networks to solicit essays, pictures, poems, and other tributes to the majestic African savanna elephants. Census results showed approximately 352,000 elephants remained in 18 African countries; a century ago, populations were estimated to be between three and five million. Illegal ivory trade plus an increase in human populations leading to human-elephant conflicts are the two major drivers influencing this drastic decline in elephant populations. The amazing pictures throughout this book effectively portray strong familial ties among elephant groups and the devastating toll ivory poachers have had on these magnificent creatures. Each chapter is introduced by a map highlighting the country featured in the chapter. Including writings from a vast array of elephant experts, from game guards to scientists and lodge owners, this impressive volume effectively depicts the plight of the African elephant and will prompt readers to take action. VERDICT Recommended for those interested in the anthropogenic factors that can push a species to the brink of extinction. While the overall tone is bleak, the commitment of the individuals featured will inspire hope.—­Diana Hartle, Univ. of ­Georgia Science Lib., Athens

Smithsonian Books, 9781588346636, 448pp.
Publication Date: April 9, 2019
About the Author
DON PINNOCK, a historian, criminologist, and environmental journalist and photographer, has served as the editor of Getaway magazine and is the author of seventeen books. He has won two Mondi Awards for his environmental columns and the City Press Non-Fiction Award and was shortlisted for the European Union Literary Award. COLIN BELL has worked throughout Africa as a bush guide and environmental advocate and is co-owner of Natural Selection Travel.
or
Not Currently Available for Direct Purchase