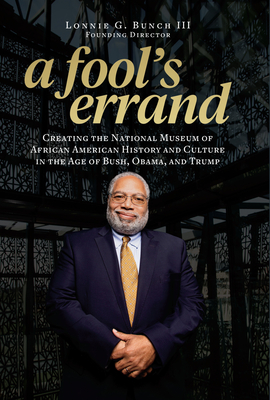 A Fool's Errand
Creating the National Museum of African American History and Culture in the Age of Bush, Obama, and Trump
Hardcover

* Individual store prices may vary.
Description
Founding Director Lonnie Bunch's deeply personal tale of the triumphs and challenges of bringing the Smithsonian National Museum of African American History and Culture to life. His story is by turns inspiring, funny, frustrating, quixotic, bittersweet, and above all, a compelling read.

In its first four months of operation, the Smithsonian National Museum of African American History and Culture surpassed one million visits and quickly became a cherished, vital monument to the African American experience. And yet this accomplishment was never assured. In A Fool's Errand, founding director Lonnie Bunch tells his story of bringing his clear vision and leadership to realize this shared dream of many generations of Americans.

Outlining the challenges of site choice, architect selection, building design, and the compilation of an unparalleled collection of African American artifacts, Bunch also delves into his personal struggles--especially the stress of a high-profile undertaking--and the triumph of establishing such an institution without mentors or guidebooks to light the way. His memoir underscores his determination to create a museum that treats the black experience as an essential component of every American's identity.

This inside account of how Bunch planned, managed, and executed the museum's mission informs and inspires not only readers working in museums, cultural institutions, and activist groups, but also those in the nonprofit and business worlds who wish to understand how to succeed--and do it spectacularly--in the face of major political, structural, and financial challenges.
Praise For A Fool's Errand: Creating the National Museum of African American History and Culture in the Age of Bush, Obama, and Trump…
"Seamlessly weaves the personal and political work that went into envisioning, planning, funding, building, and opening the museum." —Library Journal, starred review

"Like the Smithsonian National Museum of African American History itself, its inaugural director's memoir tells a challenging and ultimately inspiring story of struggle, perseverence, and uplift." --Booklist 

"One reads here a great historian reaching for the nitty gritty and the mountain tops of American history in ways that end much better than Albion Tourgée's 'fool's errand.'" —David W. Blight

"This fascinating memoir provides the crucial institutional history that NMAAHC so richly deserves." —Henry Louis Gates Jr.
 
"America owes Bunch a debt for creating the museum, now we are in his debt, again, for this elegant story of triumph." —Scott Pelley
 
"A fascinating depiction of a dreamer and his destiny as he works faithfully to bring to fruition a home not just for artifacts, but finally a resting place of memory and spirit." —Angela Bassett
 
"In this engaging and candid book, Lonnie Bunch enables us to understand how he and a community of coworkers and supporters created a twenty-first century museum of which all Americans can be proud." —Eric Foner
 
"This stirring tale of a labor of love should be read by anyone and everyone who wants to understand how to fight for representation of that which matters most." —Darren Walker
 
"In A Fool's Errand Lonnie Bunch memorializes the fulfillment of a long overdue undertaking." —Congressman James E. Clyburn
 
"[Bunch] has brought to life a magnificent museum." —William S. Cohen
 
"This book begins like a mystery, unfolds like a thriller, and ends like a romance novel of love for a people whose heritage has been hostage to hostility and ignorance. Lonnie Bunch led in creating a monumental institution that will stand the test of time." —Michael Eric Dyson
Smithsonian Books, 9781588346681, 288pp.
Publication Date: September 24, 2019
About the Author
LONNIE G. BUNCH III is Founding Director of the Smithsonian National Museum of African American History and Culture, and now Secretary of the Smithsonian Institution. Prior to becoming the director, he served as the president of the Chicago Historical Society and as the associate director for curatorial affairs at the Smithsonian National Museum of American History. Bunch is also co-author of The American Presidency: A Glorious Burden (Smithsonian Books, 2000) and From No Return: The 221-Year Journey of the Slave Ship São José (Smithsonian Books, 2017)