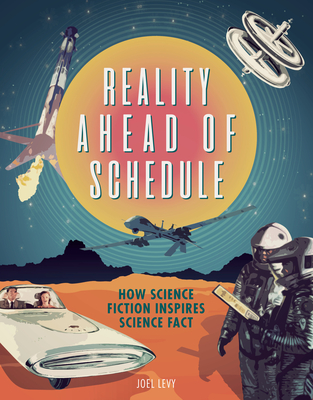 Reality Ahead of Schedule
How Science Fiction Inspires Science Fact
Hardcover

* Individual store prices may vary.
Description
A rich visual history of science fiction's impact on real-world technologies, this book is perfect for lovers of H. G. Wells, Star Trek, Isaac Asimov, Jules Verne, Aldous Huxley, and 2001: A Space Odyssey.

Have you ever wished for a personal jet pack or a robot butler? Do you wonder how you would fare as an interplanetary traveler? Are you eagerly awaiting driverless cars? Reality Ahead of Schedule explores how what we imagine about the future has influenced our ability to make those ideas into reality. There are many vital technologies that science fiction not only predicted, but also helped bring into being.

Through lively narration and lavish illustrations, the book presents technological developments in the military, consumer, space exploration, medical, and communications fields. It explores the writers, futurists, and far-sighted inventors whose visions became realities, from the direct influence of H. G. Wells on the atomic bomb and the tank, to the ambitious prototypes created by inventors ahead of their time, such as Nikola Tesla's remote-controlled drone ship. The history and development of each technology is related in context, exploring the road from prescient fictional representation to real-life technology. Reality Ahead of Schedule offers readers the chance to meet and understand the impact of some of the greatest names and works in sci-fi, from Jules Verne and Aldous Huxley to Arthur C. Clarke and Isaac Asimov, Star Trek to the Bionic Man, alongside visionary inventors such as Tesla and Wernher von Braun.
Praise For Reality Ahead of Schedule: How Science Fiction Inspires Science Fact…
BOOKLIST

Science fiction starts with science and extrapolates possibilities. But how, and how often, does science fiction influence the course of science and technology? Levy does an admirable job of teasing apart this relationship by exploring the history of science fiction and tracing the origins of many ideas which came to dominate science over the years: H.G. Wells envisioned the atom bomb and tanks, for example; credit cards were predicted in a work written in 1888; and Star Trek gave us ideas for 3D printing, telecommunications, and health apps. In some cases, science fiction explores scientific ideas before they enter the mainstream. In others, people who grew up on science fiction work to make those stories a reality. Much of what Levy illuminates is already well-known but there are some surprising connections here, too. Most notably, he argues that telepresence (as portrayed in the movie Avatar) belongs to the evolution of videophones. He presents information in an accessible and engrossing way, highlighting many forgotten classic works of science fiction. This work should appeal to anyone who's interested in the history of science, technology, and science fiction.
 — John Keogh

YA/S: High school and even advanced middle school readers with an interest in science fiction and technology will appreciate this accessible book. JK.

PUBLISHERS WEEKLY

"Levy delves deep into the genre, drawing connections between acclaimed writers and the as-yet unknown or nascent inventions they anticipated. [...] Levy also explores how fiction and fact have informed each other, noting that it was Wilhelm Röntgen's discovery of the X-ray that made 'ray guns' a genre staple, and that Elon Musk's proposals for Mars exploration echoes those in a novel by rocket scientist Wernher von Braun. These historical insights are interspersed with flashy images of pulp magazine covers, movie and TV show stills, and, most intriguingly, vintage 19th-century drawings and patents. Eye-catching as well as informative, Levy's popular history ably and enjoyably succeeds in showing how science fiction has impacted the real world."
Smithsonian Books, 9781588346704, 224pp.
Publication Date: October 15, 2019
About the Author
JOEL LEVY is a writer and journalist specializing in science and nature. He is the author of more than a dozen books, including A Curious History of Mathematics, Really Useful, and Newton's Notebooks. He has also written features and articles for major national media and has appeared on numerous national television and radio shows.