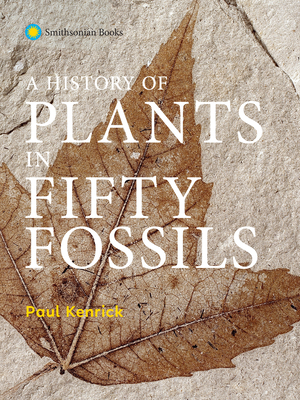 A History of Plants in Fifty Fossils
Hardcover

* Individual store prices may vary.
Description
An illustrated history of plants presented through the stories of 50 key fossil discoveries

This is the lively, fully illustrated story of plant life on Earth as revealed through some of the most significant fossil discoveries ever made. Beginning with the origins of plant life in the sea, where photosynthesis first evolved in bacteria, the book traces the evolution of land plants, ferns, conifers and their relatives, and flowering plants. Each fossil is depicted with stunning full-color photography alongside narrative from paleobotanist Paul Kenrick explaining its significance and revealing the story behind its discovery. Interspersed throughout the book are contextual "snapshots" of landscapes and environments at various periods of geological time, focusing on plants and plant-animal interactions. A History of Plants in Fifty Fossils is perfect for anyone interested in plants, fossils, and the stories they tell us about life on Earth.
Praise For A History of Plants in Fifty Fossils…
BOOKLIST
Starred Review. Paleobotanist Kenrick of Natural History Museum, London, delivers an eye-opening, spellbindingly long view of plant life on Earth, from the first evidence of oxidation byphotosynthetic organisms some 2.6 billion years ago through 465-million-year-old algae, the firstland plants (425 million years ago), the first trees (380 million years), fully open grasslands (5.3 million years), the domestication of grain (10,000 years), and the recent rejuvenation of 31,000-year-old seeds into normal plants, growing flowers and fruits, and setting new seed. Most entries are illustrated with a full-page image of their related fossil, opposite a succinct, deeply informed précis of the relevant plant's terrain, climate, and interaction with the contemporary flora and fauna that surrounded it. Kenrick describes the "mind" of a 407-million-year-old fungus, sometimes a pathogen, trying to enter the tissue of a plant, which would repel it by sealing it offor encasing it: "Other fungi appear to be able to enter plants without provoking an immuneresponse. Their hyphae easily slide between cells weaving their way into the interior. Once theyare a few cells deep, they change tack to form distinctive branched or coiled structures withincells." Full-color fossil photos (only black-and-white images were available for review) promise to be captivating.

SCHOOL LIBRARY JOURNAL
Gr 9 Up–This paleobotanical gallery offers a plethora of insights into how plants developed over the past 2.6 billion years and how scientists "read" subtle clues in fossil records. Arranged roughly in chronological order, the big, bright color photos begin with a chunk of rock from the Paleoproterozoic era showing mineral banding indicative of photosynthesis and end with a close-up of a modern seed similar to 30,000-year-old specimens that were preserved well enough to grow. The book also presents a range of fossilized cells, leaves, stem segments, and other structures (some microscopic, others, like a giant club moss embedded in a Welsh coal bed, weighed in tons). Some of the fossil photos are paired with pictures of modern relatives for comparison. In his extensive commentaries, the author relays technical observations about "coccolithophores" and "phytoliths" as he tracks the earliest appearances of surviving or extinct plant families, roots, stems, and flower parts, as well as signs of insect damage, and clues about extinction events, changes in climate, or atmosphere. "It's not easy being a plant," Kenrick writes, but aside from, possibly, bacteria, "no group of organisms has so profoundly affected the long course of life on Earth." VERDICT: The dazzling visuals will draw both science-minded upper grade scholars and casual browsers. The meaty analyses will cause the former, at least, to linger. –John Peters, ­Children's ­Literature Consultant, New York
Smithsonian Books, 9781588346711, 160pp.
Publication Date: March 20, 2020
About the Author
Paul Kenrick is a paleobotanist and researcher at the Natural History Museum, London. His scientific research focuses on the early evolution of life on land and its broader impact on key Earth systems, palaeoecology, and fossil folklore. He is the author of Fossil Invertebrates.