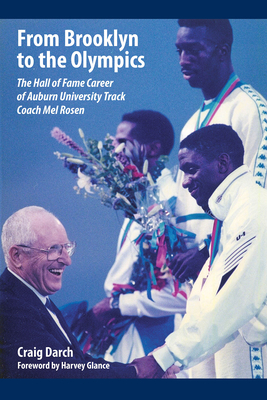 From Brooklyn to the Olympics (Hardcover)
The Hall of Fame Career of Auburn University Track Coach Mel Rosen
NewSouth Books, 9781588383051, 208pp.
Publication Date: July 1, 2014
* Individual store prices may vary.
Description
From Brooklyn to the Olympics follows Mel Rosen from the streets of Brooklyn during the 1930s-'40s to his selection as head coach for United States track and field for the 1992 Barcelona Summer Olympics. The book describes how a Jewish kid from Brighton Beach, New York, followed his dream to become the head track and field coach at Auburn University for twenty-eight years. Rosen coached seven Olympians and 143 All-Americans and guided Auburn's track and field team to four consecutive SEC Conference indoor championships. Rosen was inducted into the Alabama Sports Hall of Fame, the U.S. Track and Field Hall of Fame, and the International Jewish Sports Hall of Fame, and Auburn University named its new track the Hutsell-Rosen Track. Author Craig Darch interviewed many of Rosen's former athletes and fellow coaches. Included in the book are comments from football/baseball superstar Bo Jackson, legendary football coach Pat Dye, and Olympic medalists Harvey Glance, Willie Smith, and Carl Lewis. The book details Rosen's coaching career during the turbulent era of the 1950s and '60s. Lively vignettes highlight Auburn sports history, Alabama history, Jews in the South, and the Olympics.