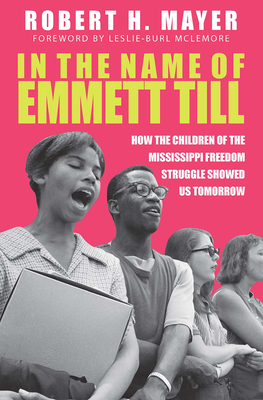 In the Name of Emmett Till
How the Children of the Mississippi Freedom Struggle Showed Us Tomorrow
Hardcover

* Individual store prices may vary.
Description
The killing of Emmett Till is widely remembered today as one of the most famous examples of lynchings in America. African American children in 1955 personally felt the terror of his murder. These children, however, would rise up against the culture that made Till's death possible. From the violent Woolworth's lunch-counter sit-ins in Jackson to the school walkouts of McComb, the young people of Mississippi picketed, boycotted, organized, spoke out, and marched, working to reveal the vulnerability of black bodies and the ugly nature of the world they lived in. These children changed that world.
In the Name of Emmett Till: How the Children of the Mississippi Freedom Struggle Tore Down Yesterday and Showed Us Tomorrow
weaves together the riveting tales of those young women and men of Mississippi, figures like Brenda Travis, the Ladner sisters, and Sam Block who risked their lives to face down vicious Jim Crow segregation. Readers also discover the adults who guided the young people, elders including Medgar Evers, Robert Moses, and Fannie Lou Hamer. This inspiring new book of history for young adults from award-winning author Robert H. Mayer is an unflinching portrayal of life in the segregated South and the bravery of young people who fought that system. As the United States still reckons with racism and inequality, the activists working In the Name of Emmett Till can serve as models of activism for young people today.
NewSouth Books, 9781588384379, 224pp.
Publication Date: September 14, 2021
About the Author
ROBERT H. MAYER is the award-winning author of When the Children Marched: The Birmingham Civil Rights Movement and editor of The Civil Rights Act of 1964. As a teacher, Mayer's passion has been and continues to be making history relevant and accessible to young people. His time spent in Jackson, Canton, and McComb, Mississippi, as well as meeting scholars and activists integral to the civil rights movement, fueled Mayer's desire to write In the Name of Emmett Till. He resides in Bethlehem, Pennsylvania with his wife Jan, where he continues to write, teach, and tutor young people in a local middle school.