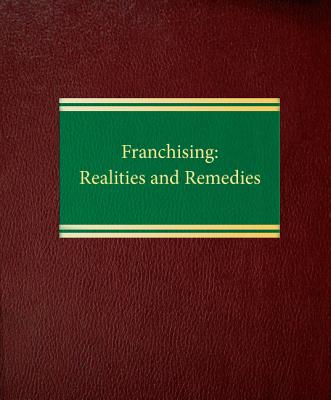 Franchising (Loose Leaf)
Realities and Remedies
Law Journal Press, 9781588520104, 2pp.
Publication Date: December 28, 2014
* Individual store prices may vary.
Description
"No attorney can seriously practice franchising law...without access to this valuable book."-- Robert D. Paul, Former General Counsel of the Federal Trade Commission

Franchising: Realities and Remedies provides you with specific, practical solutions to common problems faced by both franchisors and franchisees. It covers compliance with federal and state contracts; antitrust and disclosure laws; protective advice for franchisor's counsel; the landlord in franchising; and the RICO statute.

The book--cited by the U.S. Supreme Court--also encompasses: litigation approaches and remedies available to individuals and to groups of franchisees; good-faith, fiduciary and equitable considerations; punitive damage awards; contractual arbitration; cutting litigation costs; finding the best witnesses; damages and procedural devices; trademarks; trade secrets; restrictive covenants; termination of a franchise operation; the "departing" franchisee; attorneys' fees; and the Bankruptcy Code.

or
Not Currently Available for Direct Purchase