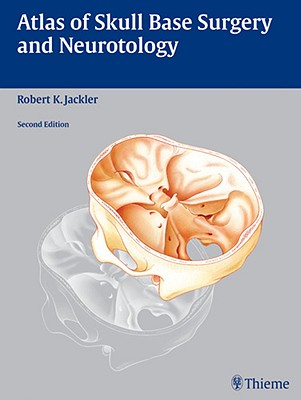 Atlas of Skull Base Surgery and Neurotology (Hardcover)
Thieme Medical Publishers, 9781588906533, 280pp.
Publication Date: August 1, 2008
* Individual store prices may vary.
Description
Praise for this book:
"Written by...one of the world experts in skull base surgery...Without a shadow of a doubt, this is a truly remarkable book...it is essential." - Journal of Laryngology & Otology
The second edition of Atlas of Skull Base Surgery and Neurotology presents an up-to-date reference for the latest techniques in the challenging area of skull base surgery. Greatly expanded in this edition is the book's broad coverage of technical maneuvers for the various surgical approaches. The atlas provides an overview of the fundamental concepts in surgical management with succinct descriptions of surgical anatomy, pathological anatomy of skull base problems, the use of endoscopes in skull base surgery, and vascular considerations.
Highlights of this edition:


Features concise, step-by-step descriptions of
surgical techniques
Expanded to include 700 full-color, high-quality
illustrations by artist Christine Gralapp demonstrating key aspects of
anatomy, operative exposures, and surgical maneuvers

An invaluable aid to mastering the complex anatomy and
techniques for skull base surgery and neurotology, this book is essential for
otolaryngologists, neurosurgeons, and residents in these
specialties.
About the Author
Sewall Professor and Chair of Otolaryngology, Stanford University School of Medicine, Stanford, CA, USA
Praise For Atlas of Skull Base Surgery and Neurotology…
Written by...one of the world experts in skull base surgery...a surgical guidebook with hundreds of pictures which are of outstanding clarity...medical illustrator Christine Gralapp['s] illustrations make the intricate, three-dimensional anatomy of this area easily understandable, and offer step-by-step pictorial descriptions of the surgical techniques discussed...Without a shadow of a doubt, this is a truly remarkable book which any skull base unit should at the very least have available to their trainees. For those trainees embarking on a skull base fellowship, it is essential.--Journal of Laryngology & OtologyThe figures and text provide virtually a step-by-step surgical guide...The drawings are beautiful, full of color and life, and offer good insight into the surgical techniques and critical anatomy described. This text is unique in presenting images that will be projected in the surgeon's mind's eye and, consequently, will aid surgical dissection...This is a valuable text for anyone interested in temporal bone and skull base surgery, including residents, fellows, neurotologists, and neurosurgeons...highly recommended and should be on the shelf of every student (and teacher) of neurotology, where it should have a prominent place.--Otology & NeurotologyAn important contribution to the state-of-the-art in skull base surgery/neurotology...a necessray addition to every practicing neurotologist's library...a significant advance in our understanding of neurotologic skull base surgery.--Head & Neck
or
Not Currently Available for Direct Purchase