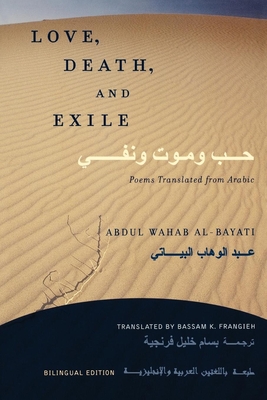 Love, Death, and Exile
Poems Translated from Arabic
Paperback

* Individual store prices may vary.
Description
Called a "major innovator in his art form" by the New York Times, Baghdad-born poet Abdul Wahab Al-Bayati broke with over fifteen centuries of Arabic poetic tradition to write in free verse and became world famous in the process. This collection is a rare, bilingual facing-page edition in both the original Arabic text and in a highly praised English translation by Bassam K. Frangieh-containing selections from eight of Al-Bayati's books of poetry.
Georgetown University Press, 9781589010048, 314pp.
Publication Date: January 1, 1991
About the Author
Abdul Wahab Al-Bayati is a world renowned poet whose career has spanned many decades. Born in Baghdad in 1926, he is known as the pioneer of the Arab free verse movement. his work is steeped in mysticism and allusion and its language is rich and subtle. Departing from classical forms in substance as well as in structure, he writes of the experience of alienation in the contemporary Arab city, of dreams of transcendent love, of nobility in death, and of the uncertainty, pain, and rootlessness of exile. This collection is the first English translation and the first bilingual edition of his work to be published in the United States.