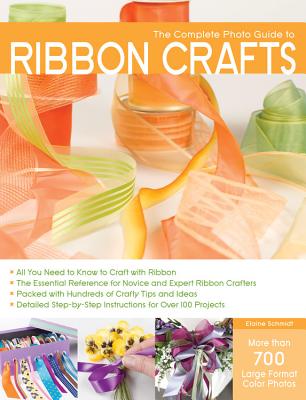 The Complete Photo Guide to Ribbon Crafts (Paperback)
*All You Need to Know to Craft with Ribbon *The Essential Reference for Novice and Expert Ribbon Crafters *Packed with Hundreds of Crafty Tips and Ideas *Detailed Step-by-Step Instructions for Over 100 Projects
Quarry Books, 9781589234697, 224pp.
Publication Date: January 1, 2010
* Individual store prices may vary.
Description
This book provides a reference for all kinds of crafts that involve ribbon. It includes step-by-step photographed instructions for a wide range of techniques as well as projects to accompany each area of ribbon crafting. This is a comprehensive guide as compared to most books on ribbon crafts that are specific by technique or end result (ribbon flowers, silk ribbon embroidery, making bows). This book explores a wide range of techniques and end products, using all kinds of ribbon, making it an essential reference for all craft enthusiasts. It includes ideas and projects for scrapbooking, home décor, general crafting, and fashion.
About the Author
Elaine Schmidt is a designer, consultant, educator and spokesperson in the sewing, quilting, craft and hobby industries. As the owner of Elaine Schmidt Designs, she has developed award-winning products for many manufacturers. Her original designs are featured at trade and consumer shows and in books, magazines, project sheets, and TV segments. She lives in Califon, N.J. Find out more about her on her website: www.elaineschmidt.com.
Praise For The Complete Photo Guide to Ribbon Crafts: *All You Need to Know to Craft with Ribbon *The Essential Reference for Novice and Expert Ribbon Crafters *Packed with Hundreds of Crafty Tips and Ideas *Detailed Step-by-Step Instructions for Over 100 Projects…
Schmidt, Elaine. The Complete Photo Guide to Ribbon Crafts. c.224p. ISBN  978-1-58923-469-7 Creative Pub: Quayside. 2010. illus.  index. pap. $24.99. CRAFTS

The latest in a continuing series of photo guides,  this book features full-color photos of techniques with examples and practice  projects.  Schmidt, owner of a design firm, shows how to use commonly available  ribbons to achieve professional-looking decorating results on clothes and  accessories. This guide will be useful for crafters beginning to experiment with ribbons and other fiber-crafting techniques in mixed-media projects. -- Library Journal, February 15, 2010