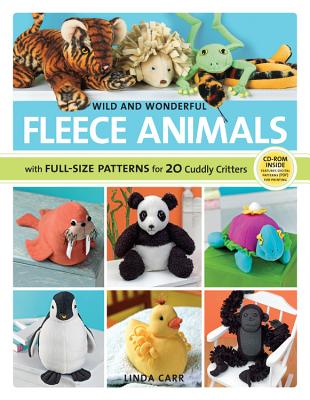 Wild and Wonderful Fleece Animals (Paperback)
With Full-Size Patterns for 20 Cuddly Critters
Quarry Books, 9781589235786, 112pp.
Publication Date: April 1, 2011
Other Editions of This Title:
Hardcover (7/1/2008)
* Individual store prices may vary.
Description
Fleece is soft, warm, easy to work with, and simple to sew-requiring no lining or edge-finishing. Even brand-new sewers can make the perfect gift in a weekend, or less! New in paperback, this book provides easy step-by-step instruction to make a range of cuddly fleece creatures to keep or give away-in a variety of colors, textures, and patterns. From Simon Snake and Peter Panda to Hanna Horse and Cindy Centipede, each of the 20 animals is featured in a full-size photograph, along with a variation in one or more colors or sizes. There are easy-to-follow line drawings and step-by-step text instruction for construction and assembly of each one. You'll also get free online access to downloadable patterns for all of the animals. Linda Carr adds her own creative touches to each of the simple shapes-decorative trims, bright appliques, and quick, secure closures.
About the Author
Linda Carr (Madison, CT) designs toys, dolls, and kids' and doll clothing for Vogue patterns. She has worked with Vogue to create many licensed patterns, including Jim Henson's Muppets, Cabbage Patch Kids, World Wildlife Federation toys, and the Madame Alexander series. Linda was featured in the February 2007 issue of Vogue Patterns. She is also the author of Classic Cloth Dolls: Beautiful Fabric Dolls and Clothes from the Vogue Patterns Collection.
Praise For Wild and Wonderful Fleece Animals: With Full-Size Patterns for 20 Cuddly Critters…
FOR THE PLC-WIRO EDITION: Carr, Linda. Wild and Wonderful Fleece Animals. Creative Pub: Quayside. 2008. c.112p. ISBN 978-1-58923-384-3. pap. $19.95. FIBER CRAFTS   Carr (Clothes from the Vogue Patterns Collection) presents a menagerie of whimsical stuffed toys in this enjoyable collection. There are stuffed toys for every child's taste: the usual puppies, kittens, and bunnies, followed by an adorable centipede, a sweet octopus, and a spider that even arachnophobes could snuggle with. What sets the toys apart is their expressive faces, created by adding pattern pieces, sewing button or plastic eyes in a specific manner, or adding detail with a permanent marker. The only potential problem for libraries is that the patterns are included in a pocket on the front of the book rather than interspersed within the text. Creative parents (and grandparents) will enjoy making these toys for the children in their lives. Recommended for most public libraries. - Library Journal, August 2008