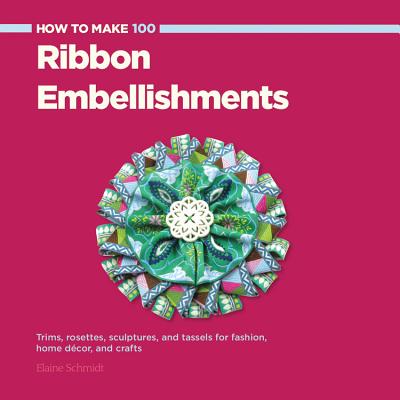 How to Make 100 Ribbon Embellishments (Paperback)
Trims, Rosettes, Sculptures, and Baubles for Fashion, Decor, and Crafts
Quarry Books, 9781589237902, 144pp.
Publication Date: April 15, 2014
* Individual store prices may vary.
Description
Classic and contemporary crafters unite! Create amazing trims, butterflies, flowers and more with How to Make 100 Ribbon Embellishments. With clever techniques and a huge selection of ribbon styles to choose from, the timeless art of making ribbon embellishments is better than ever. Let author Elaine Schmidt take you through 100 ribbon designs, offering helpful hints and tips to help you make beautiful accessories to place anywhere. Inexpensive, and with so many patterns and colors, ribbon is the perfect medium to create adornments that will make any gift, card, or decoration unique and special. Enjoy beautiful photos and simple step-by-step instructions that allow you to create amazing ribbon crafts with ease. So grab some ribbon and get crafting today!
About the Author
Elaine Schmidt is a designer, consultant, educator and spokesperson in the sewing, quilting, craft and hobby industries. As the owner of Elaine Schmidt Designs, she has developed award-winning products for many manufacturers. Her original designs are featured at trade and consumer shows and in books, magazines, project sheets, and TV segments. She lives in Califon, N.J. Find out more about her on her website: www.elaineschmidt.com.