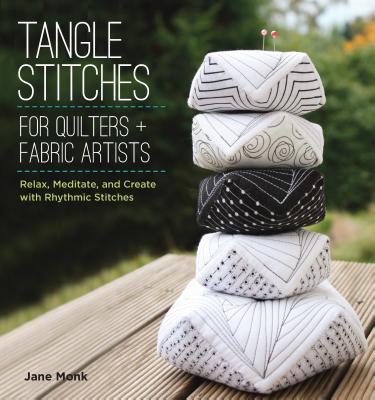 Tangle Stitches for Quilters and Fabric Artists (Paperback)
Relax, Meditate, and Create with Rhythmic Stitches
Quarry Books, 9781589237971, 128pp.
Publication Date: August 1, 2014
* Individual store prices may vary.
Description
Zentangle = filling odd shaped spaces with repetitive patterns using pen and paper, developed by Rick Roberts and Maria Thomas. Zentangle quilting = filling odd shaped spaces with repetitive patterns using machine stitches and thread. Free-motion quilting in repetitive patterns is not new to quilters. They have long used stitch patterns like "vermicelli" and "echo" stitching to quilt their projects. Tangle Stitches for Quilters and Fabric Artists takes the concepts, theory and method of Zentangle and transfer them into quilting patterns and projects. You will learn how to create tangle patterns on paper and then how to create the same patterns in thread, the key difference being that Zentangle patterns on paper are 'one stroke at a time' while quilting patterns are most efficiently achieved in one continuous line. Zentangle-inspired quilting projects include materials, how to mark and prepare fabric, tricks and tools. The projects can be achieved on either a domestic (conventional sit-down) sewing machine or longarm quilting machine.
About the Author
Jane Monk lives in Tasmania, Australia. She is a self-taught artist who has been drawing since she was a young girl, inspired by the beauty in all things in the natural and man-made worlds. Patterns and repetition, and the sometimes quirky and different, are what inspire her work. An award-winning machine quilter, Jane quilts professionally for others through her business, Jane Monk Studio. In 2010 Jane became a certified Zentangle teacher and combines her love of Zentangle and quilting by bringing these two complementary mediums together. She has designed quilt patterns for publication in quilting magazines and produced a DVD showcasing the basics of Zentangle and quilting. She has taught numerous classes in Zentangle, quilting, free-motion stitching, making journal covers, and doll making.
Praise For Tangle Stitches for Quilters and Fabric Artists: Relax, Meditate, and Create with Rhythmic Stitches…
"Jane Monk is the teacher we all wish we had growing up, in that whatever the challenging subject, she would inspire us to master it. With her new book, Tangle Stitches: For Quilters and Fabric Artists, you''ll feel as if Jane is sitting down with you for a tutoring session on stitching. Quilters generally fall into 2 categories, those who get more joy from creating the tops and those where stitching is the supreme motivator. With this book, Jane may win the former into the fold of stitching heaven."- Scarlett Burroughs, Quilting Editor - Craft Gossip.com