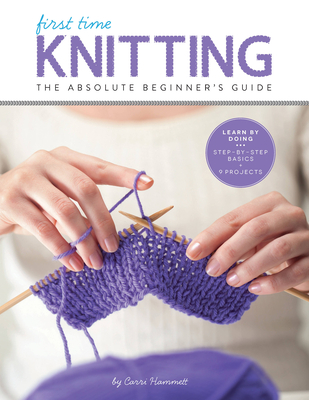 First Time Knitting (Paperback)
The Absolute Beginner's Guide: Learn By Doing - Step-by-Step Basics + 9 Projects
Quarry Books, 9781589238053, 128pp.
Publication Date: August 1, 2014
* Individual store prices may vary.
Description
Learning how to knit has never been simpler! Enjoy this beginner's guide that takes you by the hand like a personal instructor and teaches you how to knit. Filled with detailed descriptions of materials and tools, the easy step-by-step instructions for all the basic knitting techniques will have you creating projects like scarves, hats, and blankets in no time. Eight simple projects will introduce knitting skills like garter stitch, stockinette, knitted texture, and color techniques; skills you will use often as you continue to learn. With First Time Knitting, soon you will be knitting amazing gifts and projects with confidence.
About the Author
Carri Hammett is the original owner of Coldwater Collaborative, a gem of a yarn shop in Excelsior, Minnesota. Carri loves to collaborate with both her customers and her readers as together they express their love of knitting and expand their knitting knowledge and skill. She is the author of Mittens and Hats for Yarn Lovers; Scarves and Shawls for Yarn Lovers; Ready, Set, Knit Cables; and Knitting 101.