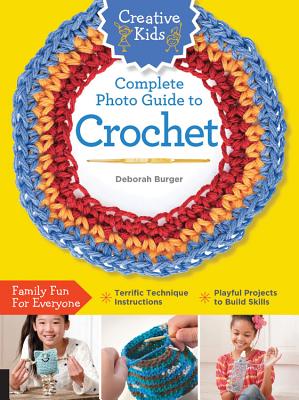 Creative Kids Complete Photo Guide to Crochet (Paperback)
Quarry Books, 9781589238558, 128pp.
Publication Date: July 15, 2015
* Individual store prices may vary.
Description
Are you looking for the perfect guide to teach your child to crochet? Look no further! Creative Kids Complete Photo Guide to Crochet starts with the absolute basics about stitching, beginning with a discussion about hooks and yarn and how to make simple chains, then gradually introduces skills and techniques until kids are crocheting confidently.
Veteran crochet author Deborah Burger, author of Crochet 101 and How to Make 100 Crochet Appliqués, will guide you and your children through projects. With over 200 photos and clear, concise instructions in language easily understood by grade-school kids, you're going to be creating crafty crochet projects with your child in no time!
Each project lists the crocheting skills that will be exercised in making it and projects are rated for difficulty, so kids can learn and grow as they develop dexterity and coordination. Your children will learn to crochet by making simple projects and building skills by practicing the essentials, and this book provides a sound foundation for a lifetime of crocheting enjoyment.
About the Author
Deborah Burger is the author of Crochet 101 and How to Make 100 Crochet Appliqués. She learned to crochet from her grandmother at age 12. While she has found enjoyment in many fiber, textile, and other art forms, crochet remains her lifelong favorite. She has been teaching crochet for more than 20 years, through Girl Scouting, various community centers, summer camps, at Charlotte's Fibers (a yarn shop in Western North Carolina), and the John C. Campbell Folk School. She is active in the online community, Ravelry, and has written articles and patterns for Interweave Crochet and the e-zines, Crochet Insider, and Crochet Uncut.
Praise For Creative Kids Complete Photo Guide to Crochet…
"As the author of one of the earliest kids' crochet books myself (Kids Can Do It Crocheting, 2003), I know a thing or two about how to teach children to crochet. I highly regard the book Deborah has produced. It is chock-full of everything one needs to know in order to become an enthusiastic crocheter; yet she breaks it down into progressive parts that serve to hold a child's interest without them getting discouraged." - Gwen Blakley Kinsler, founder of the Crochet Guild of America
"Kids who look for easy step-by-step photos for crochet (and many an adult beginner) will find Complete Photo Guide to Crochet the perfect starting place for success, teaching the basics of selecting and using hooks and yarn to produce finished results...With its kids-oriented projects, clear explanations, good-sized color photos and approach, this is the item of choice for parents who would teach their kids crocheting basics."