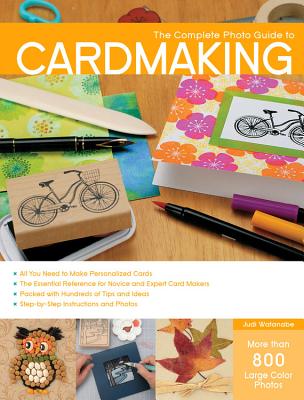 The Complete Photo Guide to Cardmaking
More than 800 Large Color Photos
Paperback

* Individual store prices may vary.
Description
Handmade cards are gifts, creative expressions, keepsakes, and relationship builders. Beneath the cardstock and embellishments is deep emotion from the card maker--encouragement, celebration, commemoration, and love. Unlike many store-bought cards that are thrown away, handmade cards are cherished and displayed. They spark connections, express feelings, evoke laughter, and warm the hearts of friends, relatives, and coworkers. There's joy in the process of creating, as well as in giving and receiving handmade cards.
The Complete Photo Guide to Cardmaking is the ultimate resource on card making. All paper-crafting techniques that can be employed for card making are thoroughly covered, including a comprehensive description of paper types available, folding options and techniques, coloring and image transfer methods, and adding embellishments. Inside, you'll also find methods for using a computer to design and print cards. More than 80 projects give you lots of ideas and inspiration to create cards of your own, using the techniques you've learned. Unique envelope templates and a helpful source list are included.
Expert paper crafter Judi Watanabe provides you with a one-stop reference for making cards for any occasion. This book includes step-by-step photographed instructions for a wide range of techniques, as well as projects to accompany each area of card making. Full of gorgeous cards, The Complete Photo Guide to Cardmaking explores a wide range of techniques and end products, making it a valuable reference for any crafter. So when the mood strikes, use the artistry you've learned to create personalized greetings for everyone you know!
Praise For The Complete Photo Guide to Cardmaking: More than 800 Large Color Photos…
*STARRED REVIEW "The author's extensive stamping experience certainly qualifies her to teach a variety of stamping techniques, from the basics of employing rubber stamps with dye, solvent, and pigment ink pads to using stamps to create designs for embossing and mixed media projects. Yet stamping is just a small fraction of what's presented here - there are also ideas for paper cutting and folding, creative embellishment using everything from silk flowers to washi tape to ribbons and charms, and a fascinating section on mizuhiki, a traditional Japanese paper cord...Although this is a cardmaking book, scrapbookers, art journalers, and mixed-media artists will also appreciate the image-based tutorials and the abundance of inspiring photos." - Library Journal
—
-
Quarry Books, 9781589238824, 256pp.
Publication Date: February 1, 2016
About the Author
Judi Watanabe's love for cardmaking started as soon as she was tall enough to reach the mailbox. Learning to carve erasers led to her next passion, rubber stamping. Together with her husband, Rob, she grew JudiKins Rubber Stamps from a small business in their garage in 1989 to one of the most innovative craft product manufacturers in the industry today. Judi now travels the world teaching and demonstrating rubber stamping techniques with projects that strive to reflect her philosophy of "simple elegance."