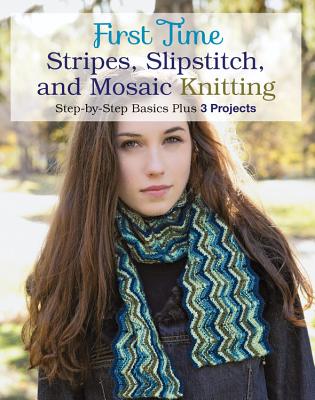 First Time Stripes, Slipstitch, and Mosaic Knitting (Paperback)
Step-by-step Basics Plus 3 Projects
Quarry Books, 9781589239050, 32pp.
Publication Date: July 15, 2015
* Individual store prices may vary.
Description
Crafty types will love learning to knit in three fun, new ways--stripes, slipstitch, and mosaic knitting!
Knitters who want to up the ante on their knitting know-how will love First Time Stripes, Slipstitch, and Mosaic Knitting. The author offers easy-to-follow steps for learning to do striped knitting, slipstitching, and stunning mosaic knitting. With how-to visuals on the proper way to hold the needles and yarn, as well as direction about how to work the yarn with both hands while following charts, switching yarn colors, and carrying the yarn across the back of the work, this book is a keeper for serious knitters.
The book also includes samples of various stripe, slipstitch, and mosaic knitting patterns all easy to follow as you try out your new skills. Projects included are a zigzag striped scarf, mosaic wristlets, and a slipstitch purse. You'll be knitting professional-looking pieces in no time with First Time Stripes, Slipstitch, and Mosaic Knitting.
About the Author
Lori Ihnen is a professional fashion designer of both hand-knit and sewn clothes. She holds a degree in clothing design from the University of Minnesota, and she specializes in creating intricate stranded designs, often inspired by nature. Her handwork is so intricate and precise that it is often mistaken for machine-produced knitting.Ihnen's designs have been featured in other books, including Top-Notch Knits; Bags: a Knitter's Dozen; A Garden Stroll: Knits Inspired by Nature; and the how-to knitting video, "Fair Isle Without Fear." She also designs for magazines, including Vogue Knitting, Family Circle Easy Knits, and Knitter's Magazine. An additional creative project included Ihnen being commissioned by the Minnesota Historical Society Museum to design a cardigan sweater for their permanent collection, Minnesota Female Fiber Artist.
or
Not Currently Available for Direct Purchase