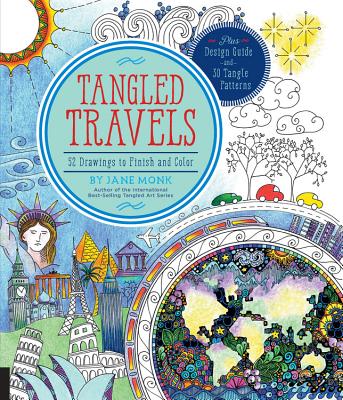 Tangled Travels (Paperback)
52 Drawings to Finish and Color (Tangled Color and Draw)
Quarry Books, 9781589239418, 128pp.
Publication Date: May 1, 2016
* Individual store prices may vary.
Description
Travel the world without leaving home by tangling and coloring your way through fifty-two popular destinations!
Take out your pens and colored pencils; you're going on a trip! In Tangled Travels, you'll find fifty-two fantastic drawings of worldwide cities and landmarks, created by Zentangle master Jane Monk. Using these destination templates as starting blocks, you'll draw and color your way through popular metropolises and geological wonders. Places you'll visit via Tangled Travels include Paris, Venice, London, New York City, the Colosseum, Stonehenge, the Bungle Bungles in Australia, and more! Half of the drawings are complete and ready to color. Half of them await your creativity and imagination to finish. In order to bring each destination to life, you'll use common shapes, lines, and patterns of tangle art to fill in blank spaces, then you'll color in those intricate drawings you've inked. The result is vibrant cities and intriguing natural wonders.
If you're familiar with tangle drawings and coloring books, then you'll be comfortable diving right into two-dimensional travel. But if you'd like instruction and tips, or simply a refresher of how best to use the book, there are guidelines offered in the beginning of Tangled Travels. Examples are offered for how to build up patterns, how to create texture, and how to incorporate fractals in your drawings. Adding motifs in ink or straight color with pencils or markers is also possible, and Jane Monk walks you through it. It's easy, fun, and calming. Book your ticket to travel the world with Tangled Travels!
Being a globetrotter has never been so easy, meditative, or rich with color!
About the Author
Jane Monk lives in Tasmania, Australia. She is a self-taught artist who has been drawing since she was a young girl, inspired by the beauty in all things in the natural and man-made worlds. Patterns and repetition, and the sometimes quirky and different, are what inspire her work. An award-winning machine quilter, Jane quilts professionally for others through her business, Jane Monk Studio. In 2010 Jane became a certified Zentangle teacher and combines her love of Zentangle and quilting by bringing these two complementary mediums together. She has designed quilt patterns for publication in quilting magazines and produced a DVD showcasing the basics of Zentangle and quilting. She has taught numerous classes in Zentangle, quilting, free-motion stitching, making journal covers, and doll making.