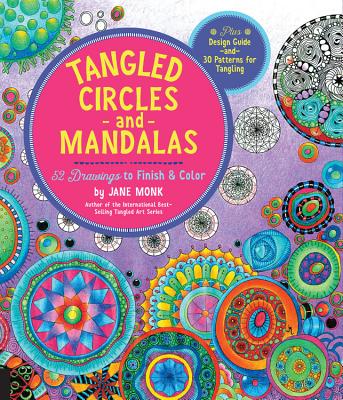 Tangled Circles and Mandalas (Paperback)
52 Drawings to Finish and Color--Plus Design Guide and 30 Patterns for Tangling (Tangled Color and Draw)
Quarry Books, 9781589239494, 128pp.
Publication Date: March 1, 2017
* Individual store prices may vary.
Description
Tangled Circles and Mandalas explores these beautiful, mystical shapes and designs, which can take artists and coloring enthusiasts to the heart of meditative creativity, relaxation, and peace.

The word mandala in Sanskrit means "circle," which is associated with the concepts of wholeness, unity, harmony, family, community, and the cycle of life. Mandala experts believe that these circles help practitioners focus inwardly, on the spiritual world.

This art book opens with a brief overview of mandalas and the power of symmetry in sacred geometry. Then you'll be off and coloring and drawing in pages designed to focus your mind and soothe anxieties. Unlike painting, you don't need to have refined art skills create a masterpiece. Reduce stress levels, elevate focus, and arrive at a sense of well-being, with Tangled Circles and Mandalas.
The low-stress technique and minimal material requirements make tangling easy to try and easy for people to succeed with. The 52 illustrations include 32 circles and mandalas to complete and color with tangle and other patterns, plus 20 starter illustrations for creating your own circles and mandala art.
About the Author
Jane Monk lives in Tasmania, Australia. She is a self-taught artist who has been drawing since she was a young girl, inspired by the beauty in all things in the natural and man-made worlds. Patterns and repetition, and the sometimes quirky and different, are what inspire her work. An award-winning machine quilter, Jane quilts professionally for others through her business, Jane Monk Studio. In 2010 Jane became a certified Zentangle teacher and combines her love of Zentangle and quilting by bringing these two complementary mediums together. She has designed quilt patterns for publication in quilting magazines and produced a DVD showcasing the basics of Zentangle and quilting. She has taught numerous classes in Zentangle, quilting, free-motion stitching, making journal covers, and doll making.
or
Not Currently Available for Direct Purchase