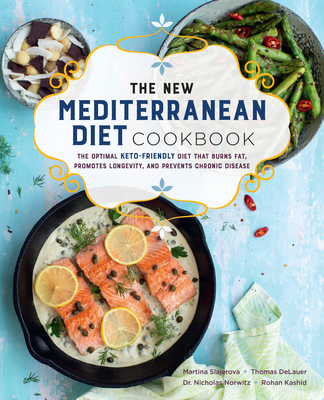 The New Mediterranean Diet Cookbook
The Optimal Keto-Friendly Diet that Burns Fat, Promotes Longevity, and Prevents Chronic Disease
Paperback

* Individual store prices may vary.
Praise For The New Mediterranean Diet Cookbook: The Optimal Keto-Friendly Diet that Burns Fat, Promotes Longevity, and Prevents Chronic Disease…
"I can unequivocally recommend The New Mediterranean Diet Cookbook and its scientific approach to health and wellness." 
 
- Dr. Landon Pryor, M.D.
—
-
"Innovative recipes that excite the palate, plus bite-sized dollops of accessible science to explain why this food will help you regain your health!"
 
- Nina Teicholz-Science Journalist and Best-Selling Author of The Big Fat Surprise
—
-
"Low-carb eating can be an incredible tool to make you healthy, or it can be just another fad diet excuse to eat junk food. In The New Mediterranean Diet Cookbook, Martina & Co. make it easy (and delicious!) to cook and eat in a way that improves to your health instead of takes away from it."
- Anthony Gustin, Author and Founder of Perfect Keto
—
-
"The health advantages of low-carb eating, the tastes of the Mediterranean, and slices of straightforward science – this book serves it all up beautifully!"
- Adele Hite, Ph.D., RDN, Expert on Nutrition Policy and Senior Writer for DietDoctor
—
-
"The traditional Mediterranean diet has risen and fallen in popularity over the years, in part due to the lack of clarity on how to follow the diet and lack of research highlighting where the diet may fall short.  The New Mediterranean Diet is an incredible resource that addresses both of these concerns.  The authors of this book have brought back the Mediterranean diet and made it better with this resource that puts an emphasis on both nutrient content and food sourcing. thus making the diet easy to understand, follow, and stick to!"
- Chris Irvin, M.S., Author and Education Manager at Perfect Keto
—
-
"This book delivers the ideal balance of science and preparation of low-carb, Mediterranean based food. The quick tips and bite-sized explanations makes this cookbook suitable for those just starting as well as those who are veterans of the low-carb diet. The pictures alone will make you want to grab your cooking utensils! And for those looking to understand a little more about why your diet should contain certain foods, the upfront section of the book is perfect for this. Martina, Nick, Thomas and Rohan have hit it out of the park with this new book!"
- Emily Maguire, BSc, MSc.
—
-
"This book is a wonderful combination of the healthy tastes of the Mediterranean and the metabolic benefits of low-carb. Plus, top it all off with a description of the science and you get the perfect combination!"
- Bret Scher, M.D. Cardiologist, Lipidoplogist, and Medical Director at DietDoctor
—
-
"This book is incredible! Finally, a book that combines accurate science with delicious, whole-food recipes to empower people to take control of their health through diet. Get this book!"
- Chris Palmer, M.D., Harvard Psychiatrist and Expert on Ketogenic Diets for Mental Health
—
-
"A savory cookbook, full of cutting-edge science that empowers those of us who want to cook our way back to health. A must-read for anyone looking for science-based gourmet eating."
- Nevada Gray PharmD, R.N. The Paleo Pharmacist
—
-
"Although The New Mediterranean Diet Cookbook contains dozens of tasty recipes, it is so much more than a cookbook. It's a roadmap to better health via nourishing whole foods."
- Franziska Spritzler, R.D., CDE, Expert Writer for DietDoctor
—
-
"As a physician, I am excited to use this New Mediterranean Keto approach as a tool for my patients looking for peak physical performance while optimizing their overall health."
- Dr. Bradford Garner M.D. - Mercy Health System
—
-
Fair Winds Press, 9781589239913, 208pp.
Publication Date: March 9, 2021
About the Author
Martina Slajerova is a health and food blogger living in the United Kingdom. She is the best-selling author of The KetoDiet Cookbook, Sweet and Savory Fat Bombs, Beginner's KetoDiet Cookbook, Quick Keto Meals in 30 Minutes or Less, Keto Slow Cooker & One-Pot Meals, The Keto All Day Cookbook, Super Low-Carb Snacks, and Keto Simple. A firm believer in low-carb living, Martina discovered the ketogenic diet after being diagnosed with Hashimoto's Disease in 2011. Frustrated with the lack of practical resources, Martina created the KetoDiet app and blog to help others live the ketogenic lifestyle successfully. A science geek at heart, Martina incorporates the latest research as well as firsthand experience into her advice. When creating recipes, she focuses not just on carb count, but on creating delicious, healthy recipes that are free of processed ingredients, unhealthy vegetable oils, and artificial sweeteners. Today her blog posts reach hundreds of thousands of people and her work has been featured in Cosmopolitan, Glamour, Huffpost Healthy Living, BuzzFeed, as well as dozens of other low-carb media and outlets.
Thomas DeLauer is a celebrity fitness and nutrition expert and social media influencer. He is best known for his hugely popular YouTube channel which has millions of followers and regularly features posts on fitness and nutrition. He has appeared in Muscle & Fitness, Muscle & Performance, and Bodybuilding.com, among other outlets.
Dr. Nicholas Norwitz obtained his PhD in ketogenic nutrition and metabolism from Oxford University and is pursuing his MD at Harvard Medical School. He is the author of peer-reviewed scientific papers and textbook chapters on topics including Alzheimer's disease, cardiovascular disease, diabetes, gastrointestinal health, genetics, osteology, and Parkinson's disease, as well as a blogger and lecturer on the application of the ketogenic diet as metabolic medicine.
Rohan Kashid is a professional chef.