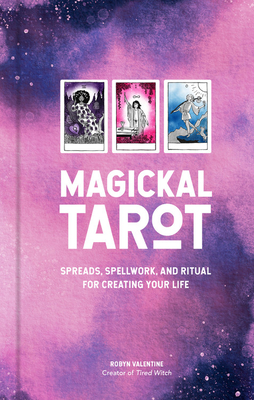 Magickal Tarot
Spreads, Spellwork, and Ritual for Creating Your Life
Hardcover

* Individual store prices may vary.
Description
Magickal Tarot offers a unique approach to tarot that teaches you how to tap into the energy and archetypes of the Major Arcana for manifesting and amplifying desired outcomes.
Tarot is a powerful tool for divination. Its magick, however, goes far beyond fortune-telling and prediction. Tarot cards represent situations we experience as we progress through the journey of life, with each card holding specific messages of perspective and guidance.
Each individual tarot card
holds rich symbolism that
is imbued with energy and vibration
. That energy can be applied to nearly all forms of manifestation, thus making your tarot deck a powerful magickal tool
you can use to invoke specific outcomes
in spells and ritual work. 
With
Magickal Tarot
, you'll learn the
specific manifestation focus of each Major Arcana card
as well as
spells and rituals that align with each card:
Use the Magician for confidence and glamour magick
Use the High Priestess to assist in dreamwork and divination
Use the Empress to support fertility and grounding of your creative projects
Use the Emperor to aid in receiving a promotion or professional success
Praise For Magickal Tarot: Spreads, Spellwork, and Ritual for Creating Your Life…
"In this beautifully written book, Robyn Valentine proves once again why she is a trusted tarot reader by so many people. This book gives a new perspective on how to incorporate the energy of tarot into the craft. It is an essential reading for those that want to explore tarot beyond divination and strengthen their bond with their deck."—Lidia Pradas, author of The Complete Grimoire and creator of @wiccantips

"Robyn is one of my go-to peers for any and all information on tarot. She brings a new perspective, research, and ideas from witchcraft to the topic, making divination with tarot more approachable and exciting to learn." —Frankie Castanea, creator of @Chaoticwitchaunt

"This blend of witchcraft with tarot practice will lead a new generation to a more in-depth relationship with the tarot that they may not have ever considered before! Magickal Tarot is a valuable book to have on any tarot readers shelf."—Temperance Alden, creator of @wildwoman_witchcraft and author of Year of the Witch

"Robyn's unabashed approach to tarot and witchcraft is both refreshing and modern. She uplifts and educates tarot beginners in an accessible way. A dedicated practitioner of the craft and the psychic arts, she is a true mentor of our time."—Stephen Aidan, creator of @AWitchesPath

"The Major Arcana can be a wonderful tool in your tarot practice, but new readers often find interpretation to be difficult and frustrating. For the first time, Robyn has dedicated a book solely to the Major Arcana and all of the different ways you can interpret, use, and add their magic to your readings and to your life. If you're considering working with tarot, better pick up this book too!"—Danielle Luet, creator of @awitchalone
Fair Winds Press, 9781589239937, 160pp.
Publication Date: June 22, 2021
About the Author
Robyn Valentine is a witch, professional tarot card reader, and blogger. She is the creator of @atiredwitch, an Instagram handle, blog, and online shop for new and baby witches.