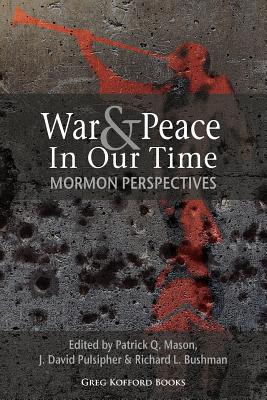 War and Peace in Our Time
Mormon Perspectives
Paperback

* Individual store prices may vary.
Description
Book Description: These essays reveal how the scriptures, prophetic teachings, history, culture, rituals, and traditions of Mormonism have been, are, and can be used as warrants for a wide range of activities and attitudes--from radical pacifism to legitimation of the United States' use of preemptive force against its enemies. As a relatively young religion that for much of its early history was simply struggling for survival, Mormonism has not yet fully grappled with some of the pressing questions of war and peace, with all of the attendant theological, social, and political ramifications. Given the LDS Church's relative stability and measure of prominence and influence in the early twenty-first century, the time is ripe to examine the historical, spiritual, and cultural resources within the tradition that provide a foundation for constructive dialogue about how individual Latter-day Saints and the institutional Church orient themselves in a world of violence. While recognizing the important contributions of previous scholars who had offered analysis and reflection on the topic, these essays offer a more sustained and collaborative examination of Mormon perspectives on war and peace, drawing on both historical-social scientific research as well as more normative (theological and ethical) arguments. Praise for War & Peace In Our Time: "Whatever your current opinion on the topic, this book will challenge you to reflect more deeply and thoroughly on what it means to be a disciple of Christ, the Prince of Peace, in an era of massive military budgets, lethal technologies, and widespread war." -Grant Hardy, author, Understanding the Book of Mormon: A Reader's Guide
"This volume provides a fitting springboard for robust and lively debates within the Mormon scholarly and lay community on how to think about the pressing issues of war and peace." -Robert S. Wood, Dean Emeritus, Center for Naval Warfare Studies, and Chester W. Nimitz Chair Emeritus, U.S. Naval War College
"This collection of differing views by thoughtful scholars comprises a debate. Reading it may save us in the future from enacting more harm than good in the name of God, country, or presumption." -Philip Barlow, author, Mormons and the Bible: The Place of the Latter-day Saints in American Religion
"I consider this book an absolutely essential resource for any latter-day Saint seeking to understand God's will regarding war. . . . Y]ou really ought to buy this book " -- Alan Rock Waterman, Pure Mormonism Contributors: Patrick Q. Mason J. David Pulsipher Richard L. Bushman Joshua Madson Morgan Deane Robert A. Rees F.R. Rick Duran Mark Ashburst-McGee Jennifer Lindell Ethan Yorgason Jesse Samantha Fulcher Robert H. Hellebrand D. Michael Quinn Boyd Jay Petersen Loyd Ericson Eric A. Eliason Gordon Conrad Thomasson Ron Madson Mark Henshaw Valerie M. Hudson Eric Jensen Kerry M. Kartchner John Mark Mattox.
Greg Kofford Books, Inc., 9781589580992, 322pp.
Publication Date: August 28, 2012