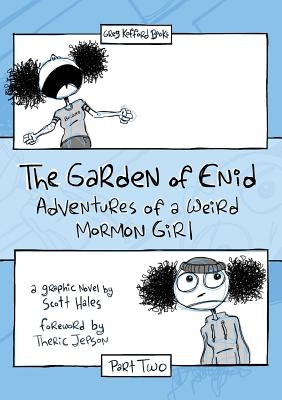 The Garden of Enid
Adventures of a Weird Mormon Girl, Part Two
Paperback

* Individual store prices may vary.
Other Editions of This Title:
Paperback (11/15/2016)
Description
Fifteen-year-old Enid Gardner is a self-proclaimed "weird Mormon girl." When she isn't chatting with Joseph Smith or the Book of Abraham mummy, she's searching for herself between the spaces of doubt and belief. Along the way, she must grapple with her Mormon faith as it adapts to the twenty-first century. She also must confront the painful mysteries at the heart of her strained relationship with her ailing mother.
This edition of The Garden of Enid: Adventures of a Weird Mormon Girl recasts the award-winning webcomic as a two-part graphic novel. With revised and previously unpublished comics, it features the familiar story that captivated thousands online, yet offers new glimpses into Enid's year-long odyssey.
Praise for The Garden of Enid:
"Enid is one of my favorite figures in Mormon culture. She is incredibly human for all of her two dimensions. On one hand, she's a flawed yet faithful individual constantly seeking after truth. On the other, she offers a remarkable window into the life of a teen-aged girl growing up Mormon. Creator Scott Hales uses his medium to his advantage, giving
The Garden of Enid
a marvelous glint of theatricality. Enid bends time and space to chat with an array of characters, from the Prophet Joseph to a less historical but no less compelling guardian angel named Eugene. It's all just a little wacky--and yet completely true and relatable" --Melissa Leilani Larson, writer of
Pilot Program
and
Freetown
"Scott Hales is] the cartoonist for this generation, who gets us like no one else does. . . . Enid wants to believe the gospel--and she does, more deeply than she realizes--but she is coming of age in a skeptical time, challenging her Seminary teacher and her Young Women leaders in ways they are not always prepared to deal with. She is awkward, she is vulnerable, yet when she follows her heart she invariably does the right thing." --Ardis E. Parshall, Keepapitchinin "Comics are always meant to help us take a look at ourselves and laugh--something sorely needed in Mormon Culture. Enid, with her wise-aleck streak, her unusual and difficult home life, and her overly developed brain, is no usual Mormon fifteen year old girl. With late-night imaginary conversations with long-dead prophets, well-told moments of loneliness and self doubt, snarky Sunday-class encounters, vulnerable, tense conversations with her closeted best friend, to midnight faith crises, Enid brings something real, something faith-affirming, something beyond Happy Valley and seminary videos and Saturday's warrior to the LDS audience." --Sarah Dunster, author of
Lightning Tree
and
Mile 21​
Greg Kofford Books, Inc., 9781589585638, 174pp.
Publication Date: February 14, 2017