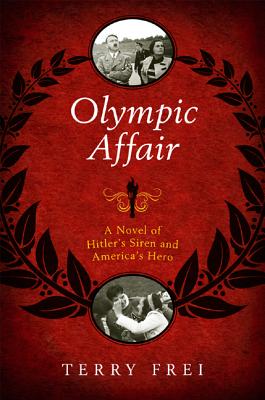 Olympic Affair (Hardcover)
A Novel of Hitler's Siren and America's Hero
Taylor Trade Publishing, 9781589796980, 327pp.
Publication Date: December 16, 2012
Other Editions of This Title:
MP3 CD (6/21/2016)
* Individual store prices may vary.
Description
Though not a member of the National Socialist Party, Leni Riefenstahl was the filmmaker darling of the Nazis and Adolf Hitler. First a successful dancer and actress in Germany, she became more notorious when she produced and directed Victory of Faith and Triumph of the Will, the chilling documentaries about Nazi Party Congresses at Nuremberg. Glenn Morris was an All-American farm boy from tiny Simla, Colorado, as well as a former college football star and student body president at the school now known as Colorado State University. At the 1936 Olympics, he won the decathlon, earning him the label "the world's greatest athlete." Among the American heroes at the Berlin Games, he was considered second only to Jesse Owens, who won four gold medals. Riefenstahl and Morris: An unlikely couple? Perhaps, but in her 1987 memoirs, the German filmmaker belatedly confirmed she had an affair with the American athlete during the filming of Olympia, Riefenstahl's documentary about the Berlin Games. In fact, she portrayed it as much more than a dalliance, saying that she had dreamed of marrying Morris and that he broke her heart. Morris, who went on to Hollywood, the National Football League, and military service, spoke sparingly of the relationship, but mused late in life that he "should have stayed in Germany with Leni." In Olympic Affair, author Terry Frei turns to historical fiction in a novel researched in much the same fashion as his widely praised works of nonfiction, including Horns, Hogs, and Nixon Coming and Third Down and a War to Go. Using deduction, imagination and narrative skill to augment documented fact (as well as debunk myths parroted for many years), Frei tells the story of their ill-fated affair . . . and beyond. Read the first chapter of Olympic Affair here.
About the Author
Award-winning journalist, author, and screenwriter Terry Frei is in his second stint with the Denver Post. A native of Oregon, he has also written for the (Portland) Oregonian and the Sporting News; for eight years he was a featured columnist on ESPN.com. Among his previous books are Horns, Hogs, and Nixon Coming; 77: Denver, the Broncos, and a Coming of Age; and Playing Piano in a Brothel. He and his wife, Helen, live in Denver. His website is www.terryfrei.com.
or
Not Currently Available for Direct Purchase