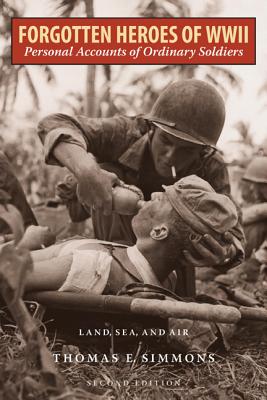 Forgotten Heroes of World War II
Personal Accounts of Ordinary Soldiers-Land, Sea, and Air, Second Edition
Paperback

* Individual store prices may vary.
Description
World War II was the defining event of the twentieth century. For everyone it was a time of confusion, fear, destruction, and death on a scale never before seen. Much has been written of the generals, campaigns, and battles of the war, but it was young, ordinary American kids who held our freedom in their hands as they fought for liberty across the globe. Forgotten Heroes of World War II offers a personal understanding of what was demanded of these young heroes through the stories of rank-and-file individuals who served in the navy, marines, army, air corps, and merchant marine in all theaters of the war. Their tales are told without pretense or apology. At the time, each thought himself no different from those around him, for they were all young, scared, and miserable. They were the ordinary, the extraordinary-the forgotten.
Taylor Trade Publishing, 9781589799639, 326pp.
Publication Date: November 6, 2014
About the Author
Thomas E. Simmons is the author of The Brown Condor, Escape from Archangel, and The Man Called Brown Condor. He has served as commercial captain of a seventy-foot sailing vessel, been a pilot since the age of sixteen, flown professionally, and participated in air shows flying aerobatics in open-cockpit bi-planes. In 1960 he served as an artillery officer in Korea. He lives in Gulfport, Mississippi.