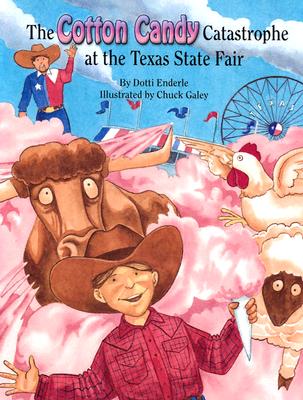 Cotton Candy Catastrophe at the Texas St (Hardcover)
Pelican Publishing Company, 9781589801899, 32pp.
Publication Date: September 30, 2004
Description
At last It's time for the annualTexas State Fair, and young Jake knows exactly what he wants to do first. He passes up all the other booths to buy his favorite treat--a cone of sweet and puffy cotton candy. Little does Jake know that his choice of sugary snack--and an unfortunate mechanical failure--will wreak havoc on the nation's biggest state fair. As Jake wanders through the exhibits and attractions, he trails a sticky tail of cotton candy in his wake. Soon the candy has swaddled the livestock, tripped up the fair queen, and even festooned Big Tex with a pink tutu It truly is a cotton candy catastrophe--until Jake has a brilliant idea to save the day.
Young readers will enjoy Jake's comic misadventure, set among landmarks like the Cotton Bowl and the Texas Star, America 1/2s tallest Ferris wheel.
Advertisement