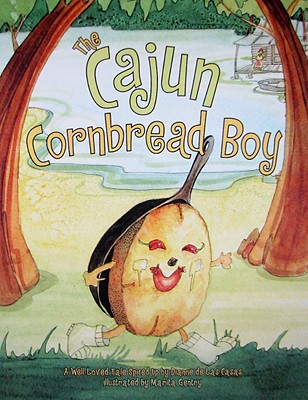 The Cajun Cornbread Boy (Hardcover)
Pelican Publishing Company, 9781589802247, 32pp.
Publication Date: December 15, 2008
Description
"Dianne de Las Casas mixes humor, high spirits, lively narration and a colorful setting to bring alive the timeless tale of the Gingerbread Boy."
--Robert D. San Souci, author of The Talking Eggs: A Folktale from the American South and Little Pierre: A Cajun Story from Louisiana
"Just enough French phrases are used to give a sense of the Cajun dialect, without making the story difficult for non-Cajuns to read. The appended recipe and glossary are a nice touch. This lively story will be enjoyed by children everywhere."
--Gale K. Criswell, retired Children's Services Consultant of the State Library of Louisiana
Rascally raccoons, feisty foxes, and artful alligators aren't the only creatures running wild in the bayou. With a peppercorn nose, a boudin mouth, chili-pepper eyes, and no small amount of cayenne pepper, the Cajun cornbread boy sprints through the swamps in shrimp boots and a cast-iron skillet hat, shouting as he dodges a number of perils along his way. When the boy meets an alligator who'd really like to have him for lunch, one of them is in for a truly spicy surprise
In this flavorful rendition of the classic Gingerbread Man tale, award-winning international storyteller and folksinger Dianne de Las Casas presents a clever story in true Cajun style. Accompanied by Marita Gentry's fresh and fun illustrations, this engaging and beautifully narrated folktale will be an unforgettable and delicious delight to all. Complete with a glossary of Cajun terms and a cornbread recipe, this zesty story will make mouths water as it brings the flavors of the Cajun country to every home.
Advertisement