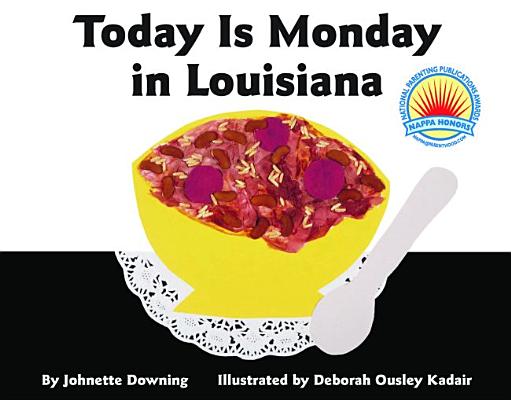 Today Is Monday in Louisiana (Hardcover)
Pelican Publishing Company, 9781589804067, 32pp.
Publication Date: September 30, 2006
* Individual store prices may vary.
Description
Gold/Honors Award Winner
2007 National Parenting Publications Awards (NAPPA) Children's Products
"Kadair's homespun collages . . . prove to be a tasty medium . . . Youngsters may well be inspired to put together their own art projects celebrating their favorite dishes."
-Publishers Weekly
"A pleasing addition to Louisiana lore and a fun, light note for a unit on the state."
-School Library Journal
Red beans, po' boys, gumbo, jambalaya, catfish, crawfish, and beignets are foods most Louisianians have grown up eating, but for nonnatives and visitors, these new words and tastes are a discovery upon their arrival in New Orleans, Lafayette, Shreveport, or Baton Rouge. In Today Is Monday in Louisiana, singer and songwriter Johnette Downing adapts a popular Louisiana song for everyone's enjoyment. Now, kids all over the country can "come and eat it up "
Told with delicious repetition, this chronological culinary journey takes readers through the days of the week, describing one Louisiana dish a day. On Monday there are red beans to eat and on Tuesday, po' boys. On Wednesday gumbo is served, and on it goes through Sunday, when New Orleans' favorite breakfast treat-beignets-are enjoyed with a warm cup of caf 1/2 au lait. The glossary at the end of the book explains the origins and ingredients of the dishes and includes even more new words, like okra, sassafras, and lagniappe. A recipe for red beans and rice is included, encouraging readers to begin their week the Louisiana way.
or
Not Currently Available for Direct Purchase