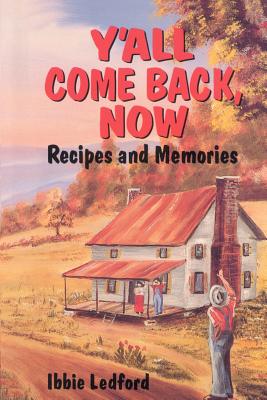 Y'All Come Back, Now: Recipes and Memories (Paperback)
Recipes and Memories
Pelican Publishing Company, 9781589804173, 224pp.
Publication Date: January 31, 2006
Description
In 1992, Ibbie Ledford captivated audiences with her collection of recipes and stories entitled Hill Country Cookin and Memoirs, which taught readers everything from how to skin a rabbit to how to catch and cook frog legs. In that book she shared some of her favorite moments of growing up in the Hill Country, creating a memorial to a fading way of life and its home-style meals. Now Ledford has returned with another informative, very touching, yet more up-to-date account of Hill Country life, in and out of the kitchen. It's called simply: Y'All Come Back, Now: Recipes and Memories.
Folks in the Hill Country have traded in their wood-burning stoves for microwave ovens. And even though a freshly killed hen is better eating on the dinner table, they have found sufficient substitutes at the grocery store for their everyday cooking. Adapting to technology, convenience, and even the desire for some new recipes from other regions, Ledford shows how the residents of this part of Tennessee are preparing their favorite dishes in the modern age. The recipes are as genuine as they come, with historic, rustic influences seeping through contemporary ingredients and techniques.
The more traditional fare in this cookbook comes from family classics at the Ledford home. Among them, readers can find and easily prepare Popeyes, Cherry Lemonade, Ham Salad in a Crust Bowl, Pork Chops and Potato Casserole, and Butter Pecan Ice-Cream Pie. Some of the newcomers to the Hill Country menu include Shrimp Cocktail, Chicken Parmesan, Salisbury Steak, Easy Potatoes au Gratin, and German Chocolate Cake. Also featured are more stories, some humorous, others inspiring, about meeting progress and deciding when to climb aboard and when to step out of its way. Told with a sense of nostalgia, they illustrate everything from the advent of the car to the perseverance of the country store. Ledford also spins yarns about her world growing smaller as more and more family and friends leave the Hill Country each year for newer, more urban communities.
Advertisement