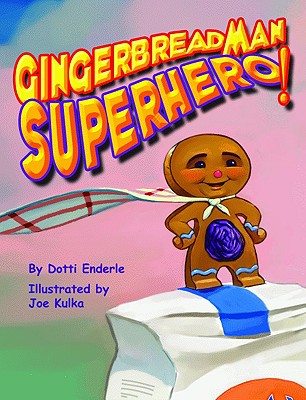 Gingerbread Man Superhero! (Hardcover)
Pelican Publishing Company, 9781589805217, 32pp.
Publication Date: September 8, 2009
Description
"Not only do I highly recommend this delicious adventure, but I also recommend making sure you bring along a snack while reading.
-Steve Young, award-winning author of 15 Minutes, the International Reading Association's Young Adult Fiction Choice for 2008
"The imaginative full page color illustrations of Gingerbread Man Superhero leap off the page and right into the reader's heart . . . will captivate a whole new generation."
-Midwest Book Review
An evil macaroon takes a bunch of frightened brownies hostage, and only the Gingerbread Man can save them from their sticky situation With raisin eyes, a licorice mouth, and a kitchen towel for a cape, the superhero swiftly flies to the rescue. Flying sesames seeds and stampeding animal crackers are just a few of the dangers the tasty treat must face to defeat the wicked dessert. Ladyfingers and sugar cookies watch in suspense as the two sweets struggle for victory. Not one to crumble under pressure, the Gingerbread Man valiantly shouts "Flour Power " just as he saves the day.
This version of the classic Gingerbread Man story is sure to satisfy the sweet tooth of readers everywhere. Joe Kulka's fanciful comic-storybook art enhances Dotti Enderle's menagerie of confectionary characters.
ABOUT THE AUTHOR
Dotti Enderle is a celebrated author who loves to entertain children with her imaginative storytelling. She is a member of the Society of Children's Book Writers and Illustrators, the Houston Storytellers Guild, and the Writers' League of Texas. She is the author of Pelican's The Cotton Candy Catastrophe at the Texas State Fair, The Fat Stock Stampede at the Houston Livestock Show and Rodeo, Hidden, and Granny Gert and the Bunion Brothers, which was her first collaboration with Joe Kulka. She resides with her family in Houston, Texas.
ABOUT THE ILLUSTRATOR
Joe Kulka is an award-winning illustrator and author. Since earning a B.F.A. in illustration from the University of the Arts in Philadelphia, he has provided images for medical textbooks, MTV, and Sony PlayStation 1/2. Kulka is the author and illustrator of Pelican's The Rope. He enjoys spending time with his family in Quakertown, Pennsylvania.
Advertisement