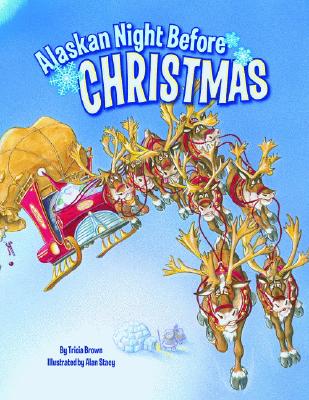 Alaskan Night Before Christmas (Hardcover)
Pelican Publishing Company, 9781589805545, 32pp.
Publication Date: July 22, 2008
* Individual store prices may vary.
Description
"Alaskan Night Before Christmas is sure to become another classic, gently reminding children and parents alike about keeping the spirit of Christmas year-round, not just when Santa's watching. Speaking as a mother and an Alaskan, I highly recommend this book."-Alaska governor Sarah Palin
"I love this story of the time my Kotzebue the caribou landed on the 'Naughty List'--but not for long I'm so glad I gave Tricia and Alan those pads of paper, pencils, and art supplies so long ago. The dear children have put them to good use."--Santa Claus, North Pole, Alaska
"A delightful twist on Santa and his yearly Christmas journey . . . All learn an important lesson about selfishness--a fun and educational story "
--Jack Hanna, director emeritus, Columbus Zoo, and TV host, Into the Wild
Santa is back for another Christmas journey across the world, and this time, he is loading his sleigh under the brilliance of the Northern Lights in the chilly Alaskan air. Armed with an ice scraper and snuggled inside his heavy red coat, Saint Nick prepares the team of flying caribou.
But the lead caribou Kotz is determined to get attention this year. He's tired of people thinking that reindeer pull the sleigh, and he's alerted the media and sent out press releases across the globe, seeking recognition and fame. It's up to Santa and the gentle, selfless reindeer Star to teach Kotz the true meaning of Christmas and to bring toys to all the boys and girls of the world.
Each caribou is named for an Alaskan town, and the book contains a pronunciation guide and trivia about caribou, Eskimos, and Alaska. With beautiful imagery and flowing rhymes, Alaskan Night Before Christmas is a wonderful addition to any holiday collection.