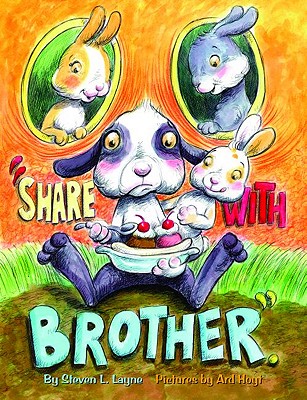 Share with Brother (Hardcover)
Pelican Publishing Company, 9781589808607, 32pp.
Publication Date: December 7, 2010
Description
Brother has been waiting to play with his new sibling since the day Mommy and Daddy brought him home. However, his excitement soon wears off when everyone reminds him that he must share. As Brother tosses jacks and plays safari with his friends, his family says, "Share with brother and someday brother will share with you." But he doesn't want to share, and his temper steams until he is sent to his room for his selfish behavior.
Nevertheless, when the baby becomes sick, Brother doesn't hesitate to come to the rescue He strings lights across his bed, reads him a book, and even shares his ice cream. Although Brother likes taking care of the little tyke, he later discovers that sometimes sharing comes with a catch
This charming tale, complete with illustrations of cuddly bunnies, humorously approaches the subject of jealousy between siblings. Children will laugh at Brother's silly antics as he grows to accept the baby while parents point out the lesson he learns about sharing.
ABOUT THE AUTHOR
Steven L. Layne is a professor of literacy education at Judson University in Elgin, Illinois, where he teaches courses in children's literature and directs the university's Master of Education in Literacy program. His contributions to the fields of educational research, teaching, and writing have received recognition from such organizations as USA Today, the Milken Family Foundation, the National Council of Teachers of English, and the International Reading Association. He is also the author of Pelican's Love the Baby, Mergers, My Brother Dan's Delicious, Over Land and Sea, Preacher's Night Before Christmas, The Principal's Night Before Christmas, The Teachers' Night Before Christmas, Teachers' Night Before Halloween, This Side of Paradise, Thomas's Sheep and the Great Geography Test, Thomas's Sheep and the Spectacular Science Project, Verses for Dad's Heart, and Verses for Mom's Heart. Layne lives with his family in St. Charles, Illinois.
ABOUT THE ILLUSTRATOR
Award-winning illustrator Ard Hoyt graduated from the Art Center College of Design in Pasadena, California. He and Steven Layne also collaborated on Love the Baby and Teachers' Night Before Halloween. Hoyt resides in Bentonville, Arkansas.
Advertisement