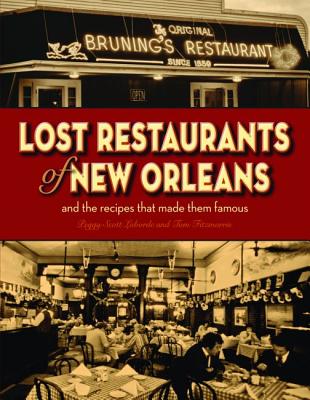 Lost Restaurants of New Orleans (Hardcover)
Pelican Publishing Company, 9781589809970, 272pp.
Publication Date: September 21, 2011
Description
From the roast beef poor boys at Acy's Pool Hall, to enchiladas with fresh ranchero sauce at Castillo's, and pancakes of many varieties at Bucky Forty-Nine, this volume takes a bite out of New Orleans' legendary dining scene. Authors Peggy Scott Laborde and Tom Fitzmorris reminisce about some of the best former eateries from around the city. They even include forty of their favorite recipes. Food critic Fitzmorris rates each restaurant on a five-star scale.
This pictorial treasure trove of information offers the history behind Gluck's, the French Quarter restaurant where Tennessee Williams worked as a waiter; La Louisiane, the fancy establishment famous for Diamond Jim's fettuccine alfredo; and Kolb's, one of the only restaurants specializing in German cuisine.
Such recipes as Shrimp Toast from Dragon's Garden, Stuffed Macaroni from Toney's Pizza & Spaghetti House, Maylie's Turtle Soup, and Christian's Oyster Roland fill the pages of Lost Restaurants of New Orleanians. Recollections from well known locals and photographs allow the reader to visualize New Orleans' famous and old-time culinary scene.
Advertisement