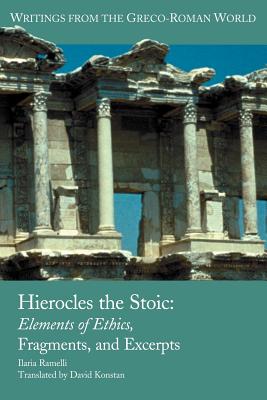 Hierocles the Stoic (Paperback)
Elements of Ethics, Fragments, and Excerpts (Society of Biblical Literature Writings from the Greco-Roman)
Society of Biblical Literature, 9781589834187, 270pp.
Publication Date: September 10, 2009
Other Editions of This Title:
Hardcover (12/14/2009)
* Individual store prices may vary.
Description
Hierocles, the Stoic philosopher of the early imperial age, is a crucial witness to Middle and Neo-Stoicism, especially with regard to their ethical philosophy. In this volume, all of Hierocles surviving works are translated into English for the first time, with the original Greek and a facing English translation: the Elements of Ethics, preserved on papyrus, along with all fragments and excerpts from the treatise On Duties, collected by Stobaeus in the fifth century C.E. and dealing mainly with social relationships, marriage, household, and family. In addition, Ramelli's introductory essay demonstrates how Hierocles was indebted to the Old Stoa and how he modified its doctrines in accord with Middle Stoicism and further developments in philosophy as well as his personal views. Finally, Ramelli's extensive commentary on Hierocles works clarifies philosophical questions raised by the text and provides rich and updated references to existing scholarship.