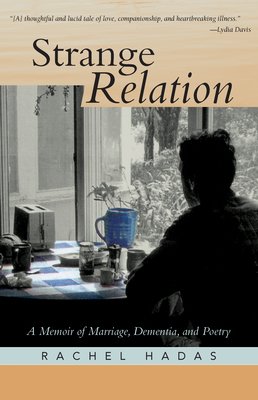 Strange Relation: A Memoir of Marriage, Dementia, and Poetry (Paperback)
A Memoir of Marriage, Dementia, and Poetry
Paul Dry Books, 9781589880610, 204pp.
Publication Date: February 15, 2011
Description
" A] thoughtful and lucid tale of love, companionship, and heartbreaking illness." Lydia Davis
In 2004 Rachel Hadas's husband, George Edwards, a composer and professor of music at Columbia University, was diagnosed with early-onset dementia at the age of sixty-one.Strange Relationis her account of "losing" George. Her narrative begins when George's illness can no longer be ignored, and ends in 2008 soon after his move to a dementia facility (when, after thirty years of marriage, she finds herself no longer living with her husband). Within the cloudy confines of those difficult years, years when reading and writing were an essential part of what kept her going, she "tried to keep tracktried to tell the truth."
"If only all doctors and nurses and social workers who care for the chronically ill could read this book. If only patients and family members stricken with such losses could receive what this book can give them. WhileStrange Relationrelates one illness and the life of one family, it is also, poetically, about all illnesses, all families, all struggles, all living. The art achieves the dual life of the universal and the particular, marking it as timeless, making it for us all necessary."Rita Charon, MD, PhD, Program in Narrative Medicine, Columbia University
"Rachel Hadas's own wonderfully resonant poems, along with the rich collection of verse and prose by other writers that she weaves into her story, clarify and illuminate over and over again this thoughtful and lucid tale of love, companionship, and heartbreaking illnessillness that, as she shows us so well, is at once frighteningly alien and also deeply a part of our unavoidable vulnerability as mortal beings. Beautifully written, totally engrossing, and very sad."Lydia Davis
"Strange Relationis a deeply moving, deeply personal, beautifully written exploration of how the power of grief can be met with the power of literature, and how solace can be found in the space between them."Frank Huyler
"A poignant memoir of love, creativity and human vulnerability. Rachel Hadas brings a poet's incisive eye to the labyrinth of dementia."Danielle Ofri, MD, PhD, author ofMedicine in TranslationandSingular Intimacies
"Like an elegy, Strange Relationis about loss and grief. Like all elegies, it also memorializes and celebrates. Rachel Hadas, in the course of her personal narrative, cites accounts of dementia, in its social and personal meanings."Robert Pinsky
"Brilliant and tough-minded, poignant but clear-headed, Rachel Hadas shines a steady light on her experience as the wife of an accomplished composer who, at a comparatively early age, descended into dementia.Strange Relationnever sacrifices truth for easy answers. Instead, Hadas uses literature to chart a course through wrenching complexities. This lauded and exceptional poet shows how language itself, the very thing her husband loses, became her shield as she crossed the ravaged lands of decision-making, making new discoveries, new friends, and new sense of the world.Strange Relationsnaps with bravery, intelligence, and Hadas' tart, candid wisdom."Molly Peacock
"Strange Relationis a beautifully written and piercingly honest account of life with a brilliant man as he descends into dementia, in his sixties."Reeve Lindbergh
Rachel Hadasis Board of Governors Professor of English at Rutgers University in Newark. She is the author of many books, includingThe River of Forgetfulness, Laws, Indelible, and Halfway Down the Hall: New & Selected Poems. She co-edited the anthologyThe Greek Poets: Homer to the Present. She lives in Manhattan.
About the Author
Rachel Hadas: Rachel Hadas is a poet, professor, essayist and translator. She is the author of numerous books of poetry, essays, and translations. Her recent publications include The River of Forgetfulness, Laws, Indelible, and Halfway Down the Hall: New & Selected Poems -- a finalist for the 1999 Lenore Marshall Poetry Prize. She lives in New York City.
Coverage from NPR
Advertisement