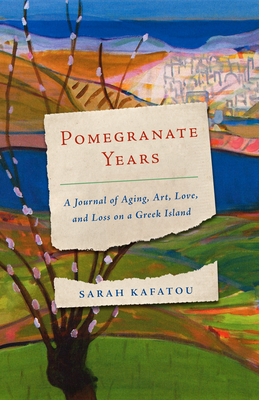 Pomegranate Years
A Journal of Aging, Art, Love, and Loss on a Greek Island
Paperback

* Individual store prices may vary.
Description
"Unexpected, rare, and a revelation . . . Sarah Kafatou has given us a gentle-paced, keen-eyed lesson, day by day, in how to live as we get older."―Rachel Hadas, author of Strange Relation: A Memoir of Marriage, Dementia, and Poetry and Poems for Camilla
Pomegranate Years, an intimate account of three years lived on the island of Crete, documents a turbulent, stressful time of economic and political crisis in Greece. It is also deeply concerned with illness and death, as the author's husband Fotis Kafatos, a distinguished scientist, is increasingly affected by Alzheimer's disease.
Fotis remains a full human being, authentic and resilient despite his impairments. Sarah reflects on his situation, as well as on the vicissitudes of daily life, the practice of art, and current events in Greece, Europe, and the US. She takes long walks in the Cretan mountains and discovers hidden aspects of the island. Talks with friends, and her own historical awareness, provide her with a rich sense of belonging.
As an account of a solitude, a couple, a family, and a culture, Pomegranate Years is concerned with the question of how to live well at any age, but especially as one grows older and a beloved life draws almost imperceptibly nearer to its end.
Paul Dry Books, 9781589881402, 295pp.
Publication Date: October 8, 2019
About the Author
Sarah Kafatou was born in New York City, and has lived in the USA, the UK, Germany, and Greece. She studied English and American Literature and Classical Greek at Harvard University, painting at the School of the Boston Museum of Fine Arts, and poetry at the Program for Writers at Warren Wilson. She has published poems, essays, and a book in Greek, and has taught at Harvard and the University of Heidelberg. She was married to Fotis Kafatos, a highly distinguished Greek biologist, and has two daughters and four grandchildren. She divides her time between Crete and Cambridge, Massachusetts.