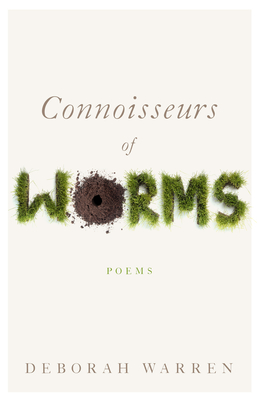 Connoisseurs of Worms
Paperback

* Individual store prices may vary.
Description
Connoisseurs of Worms is a bestiary, a theogony, a field guide, a museum guide, a pantheon, a history of learning . . . Reading these poems will alter your thinking about a good many of the things that share heaven and earth with us."--Mark Jarman, author of The Heronry and Dailiness Warren goes anywhere, inhabits anything: it is fun to see a poet so willing to embrace metamorphosis . . . A great book.―The Millions Deborah Warren's witty and energetic poems are full of play and imagination. The title poem of Connoisseurs of Worms describes the mole, a 'geonaut supreme' with his oddly enviable tunnel vision. Other animals prompt views about humans, and not always happy ones. Alongside Charlemagne's elephant and an intracoronary mosquito, topics include a queen with an alleged tail, laughter-divination, Neanderthal hygiene, and an exploding baby. These poems delight in new perspectives and an astounding verbal music.
Paul Dry Books, 9781589881563, 85pp.
Publication Date: April 27, 2021
About the Author
Deborah Warren is the author of three books of poetry--The Size of Happiness, Zero Meridian, winner of the New Criterion Poetry Prize, and Dream With Flowers and Bowl of Fruit, winner of the Richard Wilbur Award--and a translation of Ausonius: The Moselle and Other Poems. Warren's writing has appeared in the New Yorker, Paris Review, Poetry, and other publications, and she has won the Robert Penn Warren Prize, Howard Nemerov Award, Robert Frost Award, and Meringoff Award for her work. She lives in Massachusetts.