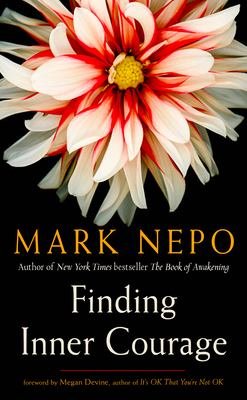 Finding Inner Courage
Paperback

* Individual store prices may vary.
Other Editions of This Title:
Digital Audiobook (3/28/2011)
Paperback (2/1/2011)
Paperback (9/1/2011)
Hardcover, Large Print, Large Print (7/1/2011)
CD-Audio (3/29/2011)
Description
In this truly inspiring book, Mark Nepo offers us all an invitation to stand by the courage of our convictions in challenging times. 
Through the stories of ordinary people, political activists, artists, writers, spiritual teachers from a variety of traditions, Mark Nepo shows how we too can discover our own inner courage. Finding Inner Courage is divided into three sections finding our inner core, standing by our inner core, and sustaining the practice of living from that place. Each of the nearly 60 brief essays and stories elucidates and inspires. Nepo's broad range of stories and people, of traditions and insights, offers myriad ways for readers to relate to their own search for courage.
Praise For Finding Inner Courage…
"Finding Inner Courage describes a path to inner bravery, the quiet power of standing by yourself, with yourself, for yourself, in the depths of your own heart. Finding the courage to face your inner self with all its gifts and demons is the first step to transforming the world."
— Megan Devine, author of It's OK That You're Not OK

"Finding Inner Courage is perhaps Mark's finest book, a deep and graceful exploration of courage—the courage it takes to live life deep and live it whole—that will illumine your mind, strengthen your heart, and nourish your soul. May this book touch your life as it has touched mine. And may it help all of us live from that sacred core of selfhood that can heal us and our wounded world."
— Parker J. Palmer, author of On the Brink of Everything: Grace, Gravity, and Getting Old

"What an extreme delight to be engaged with this writing that issues from the heart that thinks and the mind that poeticizes! How rare it is these days to find truly original writing and, even more, thought that has moved way, way beyond and beneath and above the kind of spectator consciousness that characterizes most writing. Finding Inner Courage is one of the handful of books I cherish."
— Robert Sardello, PhD, author of Love and the World and Silence

"Mark Nepo is a rare being, a poet who does not overuse language, a wise man without arrogance, a teacher who always speaks with compassion, and an easygoing love-to-listen-to him storyteller. Finding Inner Courage is a collection of delicious essays. A feast for the spirit."
— James Fadiman, PhD, cofounder, Institute for Transpersonal Psychology

"Mark Nepo has the ability to provoke honest inquiry which simultaneously ignites reflection and motivates action. This is an invaluable book and resource for our changing times."
— Angeles Arrien, PhD, cultural anthropologist and author of The Second Half of Life and The Four-Fold Way
Red Wheel, 9781590035054, 304pp.
Publication Date: September 1, 2020
About the Author
Mark Nepo is a poet and philosopher who has taught in the fields of poetry and spirituality for forty years. A New York Times #1 bestselling author, he has published twenty-two books and recorded fourteen audio projects. Recent work includes: The Book of Soul (2020) recently honored by Spirituality & Practice as one of the Best Spiritual Books of 2020, Drinking from the River of Light (2019), a Nautilus Book Award Winner; More Together Than Alone (2018) cited by Spirituality & Practice as one of the Best Spiritual Books of 2018; and Things That Join the Sea and the Sky (2017), a Nautilus Book Award Winner, The One Life We're Given (2017), The Way Under the Way (2016), Inside the Miracle (2015), The Endless Practice (2014), Reduced to Joy (2013), Seven Thousand Ways to Listen, which won the 2012 Books for a Better Life Award, Staying Awake (2012), Holding Nothing Back (2012), As Far As the Heart Can See (2011), and Surviving Has Made Me Crazy (2007), as well as many audio books including The Book of Awakening, Finding Inner Courage, and As Far As the Heart Can See (2011). As a cancer survivor, Mark devotes his writing and teaching to the journey of inner transformation and the life of relationship. Mark was given a Life-Achievement Award by AgeNation in 2015; in 2016 he was named by Watkins: Mind Body Spirit as one of the 100 Most Spiritually Influential Living People, and was also chosen as one of OWN's SuperSoul 100, a group of inspired leaders using their gifts and voices to elevate humanity. In 2014 Mark was part of  Oprah Winfrey's The Life You Want Tour, and has appeared several times on her Super Soul Sunday program on OWN TV. He has also been interviewed by Robin Roberts on Good Morning America about his New York Times bestseller The Book of Awakening. Mark is a regular columnist for Spirituality & Health Magazine.
 
The Exquisite Risk was cited by Spirituality & Practice as one of the Best Spiritual Books of 2005, calling it "one of the best books we've ever read on what it takes to live an authentic life." Mark's collected essays appear in Unlearning Back to God: Essays on Inwardness. Other books of poetry include Suite for the Living (2004), Inhabiting Wonder (2004), Acre of Light (1994), Fire Without Witness (1988), and God, the Maker of the Bed, and the Painter (1988). His work has been translated into more than twenty languages. In leading spiritual retreats, in working with healing and medical communities, and in his teaching as a poet, Mark's work is widely accessible and used by many. He continues to offer readings, lectures, and retreats. Please visit Mark at: Live.MarkNepo.com, MarkNepo.com, ThreeIntentions.com or WMESpeakers.com.  (wmespeakers.com/speaker/mark-nepo)