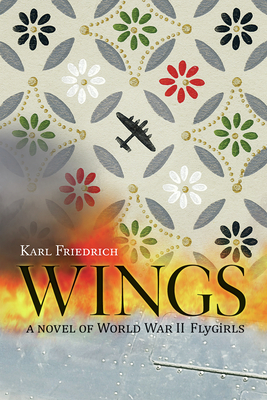 Wings (Hardcover)
A Novel of World War II Flygirls
McBooks Press, 9781590135709, 304pp.
Publication Date: April 1, 2011
* Individual store prices may vary.
Description
Based on the true World War II stories of America's first female military pilots, this historic novel follows the story of a young woman from a dirt-poor farm family. Sally Ketchum has little chance of bettering her life until a mysterious barnstormer named Tex teaches her to fly and to dare to love. But when Tex dies in a freak accident, Sally must make her own way in the world. She enrolls in the U.S. military's Women Airforce Service Pilots (WASP) program at a special school known as Avenger, where she learns to fly the biggest, fastest, meanest planes. She also reluctantly becomes involved with Beau Bayard, a flight instructor and aspiring writer who seems to offer her everything she could want. Despite her obvious mastery of flying, many members of the military are unable to accept that a "skirt" has any place in a cockpit. Soon Sally finds herself struggling against a high-powered Washington lawyer that wants to close down Avenger once and for all.
About the Author
Karl Friedrich has worked as a newspaper reporter, a magazine and public relations writer, an advertising copywriter, and a photographer, among a variety of other things. He lives in Camas, Washington.
Praise For Wings: A Novel of World War II Flygirls…
"Friedrich merges an often-neglected part of U.S. aviation history with a page-turning plot in his commendable debut . . . rich historical details add zest . . . an entertaining and spirited saga."  —Publishers Weekly


"Shocking . . . disturbing . . . insightful . . . a welcome addition to the historical novels depicting the marginalized position of women during America's wars." —Historical Novels Review (May 2011)
"If you are interested in women's history, WWII or just want to read an excellently crafted story, then I suggest you check out
Wings: A Novel of World War II Flygirls
." —www.ActingBalanced.com (October 2011)
"Wings is told in an easy-going natural voice. . . . It is extremely well-researched and when Sally was flying, I felt like I was in the cockpit with her. [I felt] like I was reading about the 1940s." —www.ReelSwellBlog.com (October 2011)
"Fans of vivid historical fiction, of WWII settings, and of coming of age novels will enjoy this novel as much as I did. And you'll love the beautiful cover!" —www.PerfectRetort.blogspot.com (October 2011)
"I highly recommend this novel. It grabs your attention from the beginning and flows easily. It simply makes you proud to be a woman." —www.ACozyReadersCorner.com (October 2011)
"Recommend? Yes, for historical fiction fans and/or for those who wish to learn more about this plucky group of women." —www.JoyfullyRetired.com (November 2011)
"Kurt Friedrich has written a captivating story about the WASP program. . . . Wings is an immensely readable story and enjoyable particularly because much of it is true." —www.HomeOfAimala.blogspot.com (November 2011)
or
Not Currently Available for Direct Purchase