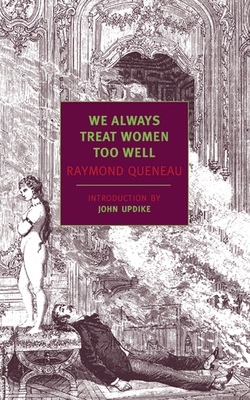 We Always Treat Women Too Well (Paperback)
New York Review of Books, 9781590170304, 200pp.
Publication Date: January 31, 2003
Description
We Always Treat Women Too Well was first published as a purported work of pulp fiction by one Sally Mara, but this novel by Raymond Queneau is a further manifestation of his sly, provocative, wonderfully wayward genius. Set in Dublin during the 1916 Easter rebellion, it tells of a nubile beauty who finds herself trapped in the central post office when it is seized by a group of rebels. But Gertie Girdle is no common pushover, and she quickly devises a coolly lascivious strategy by which, in very short order, she saves the day for king and country. Queneau's wickedly funny send-up of cheap smut--his response to a popular bodice-ripper of the 1940s--exposes the link between sexual fantasy and actual domination while celebrating the imagination's power to transmute crude sensationalism into pleasure pure and simple.
About the Author
Raymond Queneau (1903-1976) was born in the French town of Le Havre and educated at the Sorbonne. He performed his military service in Morocco. An early association with the Surrealists ended in 1929, and after completing a scholarly study of literary madmen of the nineteenth century for which he was unable to find a publisher, Queneau turned to fiction, writing his first novel, Le Chiendent (published as Witch Grass by NYRB Classics), in Greece in the summer of 1932. Influenced by James Joyce and Lewis Carroll, Queneau sought to reinvigorate French literature, grown feeble through formalism, with a strong dose of language as really spoken. He further encouraged innovation by founding, with the mathematician Francois Le Lionnais, the famous group OULIPO (Ouvroir de Litterature Potentielle), which investigated literary composition based on the application of strict formal or mathematical procedures (members of the group included Italo Calvino, Georges Perec, and Harry Mathews). Queneau's many books, which typically blur the boundaries between fiction, poetry, and the essay, include Pierrot mon ami, The Sunday of Life, Zazie in the Metro (made into a movie by Louis Malle), and Exercises in Style; under the name of Sally Mara, he published We Always Treat Women Too Well, a brilliant comic spoof on the excesses of smutty popular novels. Queneau was the editor of the Encyclopedie de la Pleiade as well as a fine poet, whose lyric "Si tu t'imagines" was a hit for the celebrated postwar chanteuse Juliette Greco. John Updike (1932-2009) was born in Shillington, Pennsylvania. In 1954 he began to publish in The New Yorker, where he continued to contribute short stories, poems, and criticism until his death. His major work was the set of four novels chronicling the life of Harry "Rabbit: Angstrom, he two of which, Rabbit is Richand Rabbit at Rest, won the Pulitzer Prize for Fiction. His last books were the novel The Widows of Eastwick and Due Considerations, a collection of his essays and criticism. Barbara Wright is one of the premier English translators of modern French literature. In addition to Raymond Queneau, she has also translated such authors as Alfred Jarry, Nathalie Sarraute, Pierre Albert-Birot, and Patrick Modiano.
Advertisement