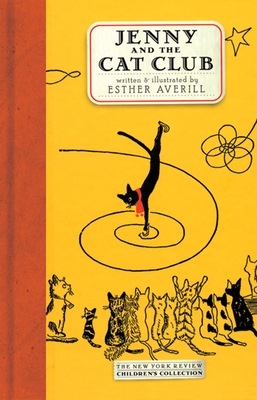 Jenny and the Cat Club
A Collection of Favorite Stories about Jenny Linsky (Jenny's Cat Club)
Hardcover

* Individual store prices may vary.
Description
In Greenwich Village an orphaned black cat lives happily with her master, a sea captain. Still, the gentle Jenny Linsky would like nothing more than to join the local Cat Club, whose members include Madame Butterfly, an elegant Persian, the high-stepping Macaroni, and stately, plump Mr. President. But can she overcome her fears and prove that she, too, has a special gift? Join Jenny and her friends, including fearless Pickles the Fire Cat, on their spirited downtown adventures and discover why The Atlantic Monthly called Jenny "a personality ranking not far below such giants as Peter Rabbit."
AVAILABLE FOR THE FIRST TIME IN DECADES, THIS COLLECTION INCLUDES ESTHER AVERILL'S FIVE FAVORITE CAT CLUB STORIES
Praise For Jenny and the Cat Club: A Collection of Favorite Stories about Jenny Linsky (Jenny's Cat Club)…
"Esther Averill's collection of Jenny Linsky books deserves special mention. ...Told in clear, simple language that will appeal to younger children, all of these stories are delightful and festooned with simple illustrations every few pages that enhance, but never dominate, the melodious text." —The San Francisco Chronicle
"Averill colors her stories with abundant flights of clever fancy… But the nonchalance with which she delivers these makes them as real as her grounding details…Children will find Jenny's lessons about emotions and behavior helpful and reassuring." —Christina Schwarz, The Atlantic Monthly
"The grace and charm of these little books are not only for children. In wording, illustration, and design they offer to people of all ages a short interview of pure delight." —The Saturday Review
"There is a realness about Jenny, as well as a demure charm, that gives these annals of her doings a distinction lacking in many a more pretentious effort." —The New Yorker
"In Jenny readers meet the perfect friend—an honest, fun-loving, and loyal playfellow and comrade-in-arms. How good to have Jenny back in print." —Leonard S. Marcus, author of Storied City: A Children's Book Walking Tour Guide to New York City
NYR Children's Collection, 9781590170472, 176pp.
Publication Date: November 30, 2003
About the Author
Esther Averill (1902-1992) began her career as a storyteller drawing cartoons for her local newspaper. After graduating from Vassar College in 1923, she moved first to New York City and then to Paris, where she founded her own publishing company. The Domino Press introduced American readers to artists from all over the world, including Feodor Rojankovsky, who later won a Caldecott Award. In 1941, Esther Averill returned to the United States and found a job in the New York Public Library while continuing her work as a publisher. She wrote her first book about the red-scarfed, mild-mannered cat Jenny Linsky in 1944, modeling its heroine on her own shy cat. Esther Averill would eventually write twelve more tales about Miss Linsky and her friends (including the I Can Read Book, The Fire Cat), each of which was eagerly awaited by children all over the United States (and their parents, too).