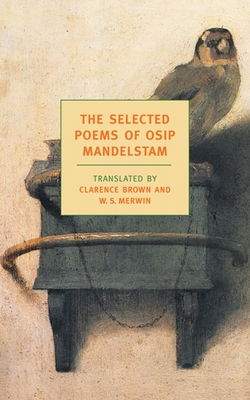 The Selected Poems of Osip Mandelstam
Paperback

* Individual store prices may vary.
Description
Osip Mandelstam is a central figure not only in modern Russian but in world poetry, the author of some of the most haunting and memorable poems of the twentieth century. A contemporary of Anna Akhmatova, Marina Tsvetayeva, and Boris Pasternak, a touchstone for later masters such as Paul Celan and Robert Lowell, Mandelstam was a crucial instigator of the "revolution of the word" that took place in St. Petersburg, only to be crushed by the Bolshevik Revolution. Mandelstam's last poems, written in the interval between his exile to the provinces by Stalin and his death in the Gulag, are an extraordinary testament to the endurance of art in the presence of terror.

This book represents a collaboration between the scholar Clarence Brown and W. S. Merwin, one of contemporary America's finest poets and translators. It also includes Mandelstam's "Conversation on Dante," an uncategorizable work of genius containing the poet's deepest reflections on the nature of the poetic process.
Praise For The Selected Poems of Osip Mandelstam…
"One of the century's greatest lyric poets…Osip Mandelstam has tempted a formidable array of English poets. Through them we can perceive a glittering poetry, at once allusive, hardeyed, amd uncompromising. We see Leningrad black and shining, sitting like a hunched wildcat or transformed into 'transparent Petropolis/ where Proserpina rules over us;' Moscow, threatening Asiatic barbarity; the Crimea's sensual richness. Much of this recorded over the years of Stalin's murderous cat-and-mouse game."
— Elaine Feinstein, The Sunday Times

"In the thirty years that have passed since the Brown/Merwin versions appeared none of the many attempts to indicate Mandelstam's vitality, to draw out his multitude of textile warps, have come anywhere near what they achieved. Seemingly understated, these translations have the tension and memorability of art. With intensity, precision, and immediacy, Brown and Merwin give us a great poet, whose work, like that of Yeats, takes place, dramatically, on the stage of history. Mandelstam is the crucial poet of 'our wolfhound age', our 'tyrant century'."
— Mark Rudman

"[Brown's] introduction to this book of Mandelstam's poems is balanced, informative and personal."
— Columbus Dispatch
NYRB Classics, 9781590170915, 192pp.
Publication Date: August 31, 2004
About the Author
Osip Mandelstam (1891–1938) was born and raised in St. Petersburg, where he attended the prestigious Tenishev School, before studying at the universities of St. Petersburg and Heidelberg and at the Sorbonne. Mandelstam first published his poems in Apollyon, an avant-garde magazine, in 1910, then banded together with Anna Akhmatova and Nicholas Gumilev to form the Acmeist group, which advocated an aesthetic of exact description and chiseled form, as suggested by the title of Mandelstam's first book, Stone (1913). During the Russian Revolution, Mandelstam left Leningrad for the Crimea and Georgia, and he settled in Moscow in 1922, where his second collection of poems, Tristia, appeared. Unpopular with the Soviet authorities, Mandelstam found it increasingly difficult to publish his poetry, though an edition of collected poems did come out in 1928. In 1934, after reading an epigram denouncing Stalin to friends, Mandelstam was arrested and sent into exile. He wrote furiously during these years, and his wife, Nadezhda, memorized his work in case his notebooks were destroyed or lost. (Nadezhda Mandelstam's extraordinary memoirs of life with her husband, Hope Against Hope and Hope Abandoned, published in the 1970s, later helped to bring Mandelstam a worldwide audience.)

Clarence Brown is the author of a prize-winning biography of Mandelstam and is Professor Emeritus of Comparative Literature at Princeton.

W.S. Merwin was born in New York City in 1927 and grew up in Union City, New Jersey, and in Scranton, Pennsylvania. From 1949 to 1951 he worked as a tutor in France, Portugal, and Majorca. He has since lived in many parts of the world, most recently on Maui in the Hawaiian Islands. He is the author of many books of poems, prose, and translations and has received both the Pulitzer and the Bollingen Prizes for poetry, among numerous other awards.