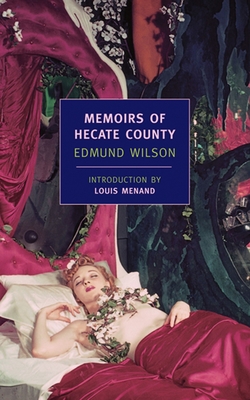 Memoirs of Hecate County
Paperback

* Individual store prices may vary.
Description
Hecate is the Greek goddess of sorcery, and Edmund Wilson's Hecate County is the bewitched center of the American Dream, a sleepy bedroom community where drinks flow endlessly and sexual fantasies fill the air. Memoirs of Hecate County, Wilson's favorite among his many books, is a set of interlinked stories combining the supernatural and the satirical, astute social observation and unusual personal detail. But the heart of the book, "The Princess with the Golden Hair," is a starkly realistic novella about New York City, its dance halls and speakeasies and slums. So sexually frank that for years Wilson's book was suppressed, this story is one of the great lost works of twentieth-century American literature: an astringent, comic, ultimately devastating exploration of lust and love, how they do and do not overlap.
Praise For Memoirs of Hecate County…
"There is a true whiff of hell in Hecate County—in the low ceilings and cheap underwear of the sex idyll, the clothes and neuroses of the copulators….After 1946, Hecate Counties would spread and multiply and set the new cultural tone. The suburban home would replace the city street as the theater of hopes; private fulfillment and not public justice would set the pace of the pursuit of happiness. Wilson foretold it, casting his fiction in the coming mode, of sexual candor, dark sardonic fantasy, and confessional fragment."
— John Updike

"The devil has a field day in suburbia. The main scene of the story (when it is not Manhattan Island) is in the countryside somewhere on the commuters' cocktail circuit near New York. Outwardly it is realistic down to the last croquet set. But it is also obviously named for Hecate, that three-headed goddess of black magic, nightmares and the underworld…"
— The New York Times

"The stories thus rattle with tension…the unasked question these tales seem to answer is, What will happen to the Revolution? Or, since each story is a reminiscence from the 1930s back to the pre-Crash 1920s, Which legacy will endure, that of the Jazz Age or the Red Decade? Vanderbilt or Winthrop?"
— Rain Taxi
NYRB Classics, 9781590170939, 472pp.
Publication Date: September 30, 2004
About the Author
Edmund Wilson (1895-1972) is widely regarded as the preeminent American man of letters of the twentieth century. Over his long career, he wrote for Vanity Fair, helped edit The New Republic, served as chief book critic for The New Yorker, and was a frequent contributor to The New York Review of Books. Wilson was the author of more than twenty books, including Axel's Castle, Patriotic Gore, and a work of fiction, Memoirs of Hecate County.

Louis Menand is the Anne T. and Robert M. Bass Professor of English at Harvard. His books include The Marketplace of Ideas, American Studies and The Metaphysical Club.
or
Not Currently Available for Direct Purchase