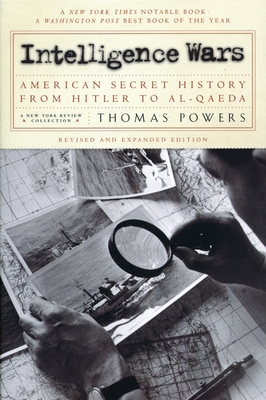 Intelligence Wars (Paperback)
American Secret History from Hitler to Al-Qaeda
New York Review Books, 9781590170984, 544pp.
Publication Date: June 30, 2004
* Individual store prices may vary.
Description
This updated edition contains new analysis on the situation in Iraq and the war against terrorism.

Sold over 10,000 copies in hardcover.

No one outside the intelligence services knows more about their culture than Thomas Powers. In this book he tells stories of shadowy successes, ghastly failures, and, more often, gripping uncertainties. They range from the CIA's long cold war struggle with its Russian adversary to debates about the use of secret intelligence in a democratic society, and urgent contemporary issues such as whether the CIA and the FBI can defend America against terrorism.
About the Author
Thomas Powers is the author of The Man Who Kept the Secrets: Richard Helms and the CIA (1979), Heisenberg's War: The Secret History of the German Bomb (1993), Intelligence Wars: American Secret History from Hitler to al-Qaeda (2002; revised and expanded edition, 2004), and The Confirmation (2000), a novel. He won a Pulitzer Prize for National Reporting in 1971 and has contributed to The New York Review of Books, The New York Times Book Review, Harper's, The Nation, The Atlantic, and Rolling Stone. His latest book, The Killing of Crazy Horse, won the 2011 Los Angeles Times Book Prize for History. He is currently writing a memoir of his father, who once told him that the last time he met Clare Boothe Luce was in the office of Allen Dulles.
Praise For Intelligence Wars: American Secret History from Hitler to Al-Qaeda…
"Essential wartime reading….you get a sense not of what to expect—that's not the job of history—but of the smart questions we need to ask to be confident that we are winning our current secret war."
— Timothy Naftali, The New York Times Book Review

"A remarkable, twisted tapestry of intrigue."
— Ron Rosenbaum, The New York Observer

"The most reflective writing about intelligence…Powers deals with the history as well as the bureaucracy of the US intelligence agencies and has a sophisticated grasp of irony, self-delusion, and character."
— The Boston Globe

"Mr. Powers is one of our most thoughtful writers on espionage….But it's not just that Mr. Powers knows the material; he knows what to make of it."
— Dallas Morning News

"It is a deeply thought-provoking book—wide-ranging and readable, incisive, expert but without jargon, able to challenge all its own assumptions."
—Katharine Sale, Financial Times

"These discerning essays span 25 years and provide a revealing history of the victories, defeats and ambiguities of Cold War and post-Cold War intelligence gathering. Powers portrays in vivid human terms repeated FBI failures in counterintelligence, the intelligence agencies' inability to infiltrate terrorist groups, chronic reluctance to share information and a management structure that leaves no one in charge of and accountable for the entire effort….Powers brilliantly conveys the ethos and culture of intelligence agencies—a complexity he has been studying and writing about for almost 30 years….a formidable contribution to the difficult work ahead in re-aligning the intelligence agencies' Cold War-vintage structure."
— Lorraine Adams, The Washington Post Book World
or
Not Currently Available for Direct Purchase