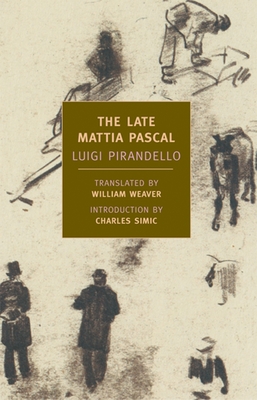 The Late Mattia Pascal (Paperback)
New York Review of Books, 9781590171158, 272pp.
Publication Date: November 30, 2004
Description
Mattia Pascal endures a life of drudgery in a provincial town. Then, providentially, he discovers that he has been declared dead. Realizing he has a chance to start over, to do it right this time, he moves to a new city, adopts a new name, and a new course of life--only to find that this new existence is as insufferable as the old one. But when he returns to the world he left behind, it's too late: his job is gone, his wife has remarried. Mattia Pascal's fate is to live on as the ghost of the man he was. An explorer of identity and its mysteries, a connoisseur of black humor, Nobel Prize winner Luigi Pirandello is among the most teasing and profound of modern masters. The Late Mattia Pascal, here rendered into English by the outstanding translator William Weaver, offers an irresistible introduction to this great writer's work.
About the Author
Luigi Pirandello (1867-1936) was born in Agrigento, Sicily, the son of a rich mining contractor. Having studied at the universities of Palermo and Rome and taken a degree in philology at Bonn, the young Pirandello turned to writing poetry and stories, achieving his first literary success in 1904 with his novel The Late Mattia Pascal. During World War I, Pirandello began to write for the stage, winning an international following with plays such as Six Characters in Search of an Author (1921) and HenryIV (1922). In 1934, he received the Nobel Prize for Literature. Pirandello was the author of novels, essays, stories, and more than fifty plays, as well as an influence on writers as different as Eugene Ionesco and T.S. Eliot. Commenting on his work in 1920 he wrote: "I think that life is a very sad piece of buffoonery; because we have in ourselves, without being able to know why, wherefore or whence, the need to deceive ourselves constantly by creating a reality (one for each and never the same for all), which from time to time is discovered to be vain and illusory.... My art is full of bitter compassion for all those who deceive themselves; but this compassion cannot fail to be followed by the ferocious derision of destiny which condemns man to deception." Charles Simic is a poet, essayist and translator. He has published twenty collections of his own poetry, five books of essays, a memoir, and numerous of books of translations. He has received many literary awards for his poems and his translations, including the Pulitzer Prize, the Griffin Prize and the MacArthur Fellowship. Voice at 3 A.M., his selected later and new poems, was published in 2003 and a new book of poems My Noiseless Entourage came out in the spring of 2005. His new e-book is titled Confessions of a Poet Laureate. William Weaver is celebrated for his numerous translations from the Italian, including Umberto Eco's The Name of the Rose and novels and stories by Italo Calvino.
Praise For The Late Mattia Pascal…
Three writers of the twentieth century have given voice to—and leant their names to—our disquiet, our injuries, and our fear; at the same time, through the catharsis or measure of contemplation, which are among the revelations of art, they have helped us to live by tempering our anxiety and desperation; and I am using this term, tempering, in a musical sense…of striking a more pure, more cristalline, more vibrant note. These three writers are Pirandello, Kafka, and Borges.
— Leonardo Sciascia

Very funny, often hilariously so. It is also moving, disturbing, tragic. For Pirandello saw comedy residing in "the fundamental contradiction … between human aspiration and frailty," a contradiction that induced "a certain perplexity between weeping and laughing."
— The New York Times Book Review
Advertisement