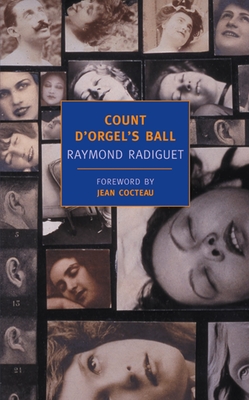 Count D'Orgel's Ball (Paperback)
New York Review of Books, 9781590171387, 160pp.
Publication Date: March 31, 2005
Description
Count d'Orgel is handsome, charming, and carefree, a model of cool aristocratic aplomb. His wife, the Countess, is beautiful and pure and loves her husband more than anything in the world. But from the moment the d'Orgels meet and befriend the clever young François de Séryeuse backstage at the circus, all three of these supremely civilized and witty people are caught up in an ever more intricate and seductive dance of deception and self-deception. At Count d'Orgel's masquerade ball, the real disguises are those of the human heart.

Completed just before Raymond Radiguet's death at the age of twenty, Count d'Orgel's Ball is a love story that is as disturbing as it is delicious.
About the Author
Raymond Radiguet (1903-1923) was the eldest of seven children born to a poor cartoonist. He left school at fifteen and was soon contributing articles to newspapers and journals in Paris, where he became the protege and lover of Jean Cocteau. Radiguet published poems, criticism, and a play, "The Pelican," as well as a highly successful novel, "The Devil in the Flesh," while leading a wild and increasingly self-destructive life. He died of typhoid, contracted from eating oysters. The manuscript of his second novel, "Count d'Orgel's Ball," was prepared for posthumous publication by Cocteau.
Praise For Count D'Orgel's Ball…
"Lovelier than Proust and truer than Balzac…."
— Jean Cocteau

"Raymond Radiguet's Count d'Orgel's Ball is a prototypically French novella: irreducibly classical, ruthlessly analytical, and so thoroughly disabused that it is hard to believe anyone so young could have written it. Never has grace been so curt, or tact so indecent, or psychology so diabolical. And yet, the tragedy of this young author's death shadows us on each and every page of this unforgivably short novel and reminds us that the word 'genius' is not inappropriate."
— André Aciman

"Extraordinary assurance of this book…It partakes of the nature of a wager or an acrobatic feat. The achivement is almost perfect."
— André Gide
Advertisement