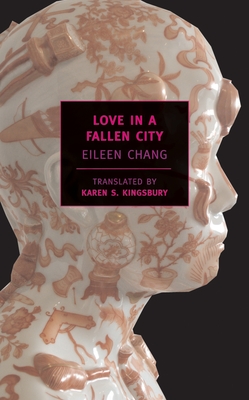 Love in a Fallen City (Paperback)
NYRB Classics, 9781590171783, 320pp.
Publication Date: October 10, 2006
* Individual store prices may vary.
Description
A New York Review Books Original

"[A] giant of modern Chinese literature" –The New York Times

"With language as sharp as a knife edge, Eileen Chang cut open a huge divide in Chinese culture, between the classical patriarchy and our troubled modernity. She was one of the very few able truly to connect that divide, just as her heroines often disappeared inside it. She is the fallen angel of Chinese literature, and now, with these excellent new translations, English readers can discover why she is so revered by Chinese readers everywhere." –Ang Lee

Eileen Chang is one of the great writers of twentieth-century China, where she enjoys a passionate following both on the mainland and in Taiwan. At the heart of Chang's achievement is her short fiction—tales of love, longing, and the shifting and endlessly treacherous shoals of family life. Written when Chang was still in her twenties, these extraordinary stories combine an unsettled, probing, utterly contemporary sensibility, keenly alert to sexual politics and psychological ambiguity, with an intense lyricism that echoes the classics of Chinese literature. Love in a Fallen City, the first collection in English of this dazzling body of work, introduces American readers to the stark and glamorous vision of a modern master.
About the Author
EILEEN CHANG (1920–1995) was born in Shanghai. In 1952 she migrated to Hong Kong to work as a translator for the American News Agency. She fled Communist China for the United States in 1956, never to return again. After living in New York, Chang moved to California, where she was a prominent fiction writer, essayist, public intellectual, and translator. In September 1995 she was found dead in her Los Angeles department. Her works include Romances, The Rice-Sprout Song: A Novel of Modern China, and The Rouge of the North.
Karen S. Kingsbury taught English in Chonqing on the Whitman-in-China program, studied Chinese in Taipei and, for fourteen years, taught English language and literature at Tunghai University in Taichung. Her Columbia University doctoral dissertation was on Eileen Chang, and she has published previous translations of Chang's essays and fiction in Renditions and The Columbia Anthology of Modern Chinese Literature. She is currently a professor of International Studies at Chatham University.
Praise For Love in a Fallen City…
"In lush and lavish style, the four novellas and two short stories in Love in a Fallen City explore the effects of war and westernization on her characters' domestic lives. Chang establishes many oppositions---East vs. West, tradition vs. modernization, spiritual love vs. physical love---and then artfully undermines them to reveal subtler tensions. The beauty of her fiction derives in a great part from its musical quality, as translated from the Chinese by Karen S. Kingsbury and the author." –The New York Times Book Review
"Money and the scramble to get it are at the center of many of our best novels, and this is nowhere truer than in the work of Jane Austen. The financial security that Austen's heroines are always chasing is so inextricably entangled with courtship, love and marriage that one can lose sight of the pound notes (not to mention the plantation slavery) behind the lilies, lace and wedding veils. This is never the case with the world Eileen Chang presents in the tales that constitute Love in a Fallen City. Think of her as Jane Austen with the gloves off." –Japan Times
"This collection of short fiction dating from the 1940s is set in Shanghai and Hong Kong. And it's one tough, seductive little book as it tracks the fates of grasping, calculating heroines who brim over with film-noir appeal…Seattle translator Karen S. Kingsbury has done a stellar job of making Chang's prose read as lushly and acerbically in English as it presumably does in Chinese." –Seattle Times
"This posthumous collection contains six vibrant stories that depict life in post-WWII China...Evocative and vivid, Chang's stories bristle with equal parts passion and resentment. YA: The youthful characters will draw teens." –Booklist
"A Major Rediscovery." –Kirkus Reviews

"The six stories in this dazzling introduction to Eileen Chang, one of China's most admired modern writers, will sweep you up with their wayward characters, shifting power dynamics, and lush sensory detail… [They] will leave you absolutely reeling." —Powell's Books 
"Chang died in 1995 in Los Angeles, having emigrated to the U.S. in 1955 at 35. These six stories, most available in English for the first time, were published to acclaim in China and Hong Kong in the '40s; they explore, bewitchingly, the myriad ways love overcomes (or doesn't) the intense social constraints of time and place. In the compact "Sealed Off," Shanghai briefly shuts down in defense against a blockade, and strangers on a tram allow their inner yearnings to surface, with consequences at once momentous and static. In the layered title story, a couple taunt each other with false estrangements as they fall in love, then are forced to confront one another directly through wartime privations. The startling novella "The Golden Cangue," told with upstairs-downstairs shifts in perspective, fugues around a wife, resentful of her disabled husband and reviled by his family, who seeks reassurance in opium. In these eloquent tragedies, Chang plunges readers in medias res. She expertly burdens her characters with failed dreams and stifled possibilities, leads them to push aside the heavy curtains of family and convention, and then shows them a yawning emptiness. Their different responses are brilliantly underplayed and fascinating." –Publishers Weekly (Starred Review)
"With language as sharp as a knife edge, Eileen Chang cut open a huge divide in Chinese culture, between the classical patriarchy and our troubled modernity. She was one of the very few able truly to connect that divide, just as her heroines often disappeared inside it. She is the fallen angel of Chinese literature, and now, with these excellent new translations, English readers can discover why she is so revered by Chinese readers everywhere." –Ang Lee
"[O]ne of the most popular Chinese writers of the 20th century and a woman who made a major contribution to the cultural life of Shanghai."–Shanghai Daily
"[Her] finely honed psychological studies and precise language won her acclaim as a giant of modern Chinese literature…"–The New York Times
"…the most gifted Chinese writer to emerge in the 40's"–C.T. Hsia, Columbia University
"Chang's obsession with privacy made her known as the 'Garbo of Chinese letters,' and photographs reveal a woman whose elegance and contemplative introspection justify that title. Nevertheless, from out of the frenzy of renown that surrounded her, the sheer quality of Chang's prose emerges clearly, and her voice–raw, low, exquisitely modulated–has a sound like none other in the canon of Chinese, or for that matter, American prose stylists."–Boston Review
"Eileen Chang is no doubt the most talented woman writer in 20th century China."–David Der-wei Wang, Harvard University