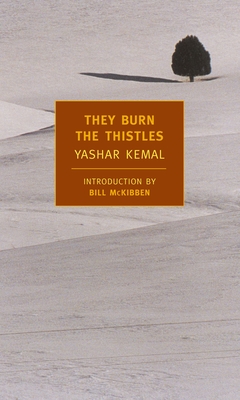 They Burn the Thistles (Paperback)
New York Review of Books, 9781590171851, 412pp.
Publication Date: November 21, 2006
Description
Turkey's greatest novelist, Yashar Kemal is an unsurpassed storyteller who brings to life a world of staggering violence and hallucinatory beauty. Kemal's books delve deeply into the entrenched social and historical conflicts that scar the Middle East. At the same time scents and sounds, vistas of mountain and stream and field, rise up from the pages of his books with primitive force. Memed--introduced in Kemal's legendary first novel, Memed, My Hawk, and a recurrent character in many of his books--is one of the few truly mythic figures of modern fiction, a desperado and sometime defender of the oppressed who is condemned to wander in the blood-soaked gray zone between justice and the law. In They Burn the Thistles, one of the finest of Kemal's novels, Memed is on the run. Hunted by his enemies, wounded, at wit's end, he has lost faith in himself and has retreated to ponder the vanity of human wishes. Only a chance encounter with an extraordinarily beautiful and powerful stallion, itself a hunted creature, serves to restore his determination and rouse him to action.
About the Author
YASHAR KEMAL (1922-2015) was born into a Kurdish family in a village in southern Anatolia and saw his father brutally murdered at the age of five. He received his basic education in village schools before working as an agricultural laborer, factory-worker, public letter-writer, and journalist. His first novel, Memed, My Hawk won the Varlik Prize for best novel of the year in 1955. Kemal's numerous other books include The Wind from the Plain trilogy, Salman the Solitary, Seagull, and three other books recounting the expoits of Memed, including, They Burn the Thistles. BILL MCKIBBEN is a former staff writer for The New Yorker. His books include Hundred Dollar Holiday, Maybe One, The End of Nature, The Age of Missing Information and Hope, Human and Wild. McKibben is a frequent contributor to a wide variety of publications, including The New York Review of Books, Outside, and The New York Times. He lives with his wife and daughter in the Adirondack Mountains of New York.
Praise For They Burn the Thistles…
"The sequence of events in the novel could not be more exciting…It is like a myth, but the mythic quality is given concreteness in the distinct personalities of the villagers…This novel is a worthy successor to Memed, My Hawk and ought to send readers swiftly to The Legend of the Thousand Bulls, Anatolian Tales, or The Wind From the Plain…I doubt that anyone who reads They Burn the Thistles will hesitate in seeking these out and concluding that Kemal is an important literary figure."–Paul Theroux, The New York Times

"Yashar Kemal…specializes in proletarian fiction–novels and short stories that bristle with passion and political commitment…Kemal has become Turkey's first world-class novelist…They Burn the Thistles is thus a valuable addition to the body of literature for society's sake"–The Washington Post

"There are a lot of facts and folklore in the story along with delightful fantasy, all told with an intimacy of detail that makes for fine reading. Kemal's descriptions of the Turkish landscape, animals and plant life are sharp and vivid. The action is told in the grand manner of the Homeric tradition, but Kemal doesn't miss a butterfly, a hard-backed iridescent beetle or the yellow narcissi of Anatolia. There is the smell of dried sweat and blood, but there is also the sweet scent of stirrup-high mint at the edge of a bubbling brook."–The Los Angeles Times

"…one of the modern world's great storytellers. To read him is to be reminded that life itself is a story. He writes fearlessly, like a hero."–John Berger

"They Burn the Thistles is an epic story of a bitter war during the 1920's between the poor Turkish peasants of the Taurus Mountains of Anatolia and the greedy Aghas who covet their land. When the novel appeared in England a few years ago, British critics said that Yashar Kemal had a feeling for the soil in literature that recalled Thomas Hardy and Ignazio Silone"–The New York Times

"The setting is lyrically described…Kemal is at pains to emphasize the traditional family and village loyalties which, more than vengeance, ultimately provide the only hope for an equitable society."–Times Literary Supplement
Advertisement