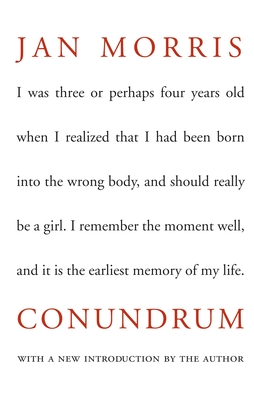 Conundrum
Paperback

* Individual store prices may vary.
Description
The great travel writer Jan Morris was born James Morris. James Morris distinguished himself in the British military, became a successful and physically daring reporter, climbed mountains, crossed deserts, and established a reputation as a historian of the British empire. He was happily married, with several children. To all appearances, he was not only a man, but a man's man.

Except that appearances, as James Morris had known from early childhood, can be deeply misleading. James Morris had known all his conscious life that at heart he was a woman.

Conundrum, one of the earliest books to discuss transsexuality with honesty and without prurience, tells the story of James Morris's hidden life and how he decided to bring it into the open, as he resolved first on a hormone treatment and, second, on risky experimental surgery that would turn him into the woman that he truly was.
Praise For Conundrum…
"Her woman is shockingly conventional, yet to read this great travel writer's account of transition is to understand the word 'journey' truly." —Eileen Myles, T: The New York Times Style Magazine

"[Conundrum is] a brilliant piece of writing—to my mind, it should be part of the established canon of great literature." —Tom Hooper, director of "The Danish Girl," Vogue

"A very good writer telling a profoundly poetic story...In fact, it is the author's extreme subjectivity that makes the book as good as it is...After reading this most charming of all Cinderella stories, one feels that sex is just as much a conundrum as ever, which is to say, according to the American Heritage Dictionary, 'a riddle in which a fanciful question is answered by a pun,' or 'a problem admitting of no satisfactory solution.'" —The New York Times

"Conundrum remains an exquisite read — a rare gift of empathic insight into an experience which most of us will never have but which is strewn with elements of the struggle for belonging, acceptance, and authenticity that most of us face daily in one form or another." —Maria Popova, Brain Pickings

"Certainly the best first-hand account ever written by a traveler across the boundaries of sex. That journey is perhaps the ultimate adventure for a human being, but although it has been the subject of myth and speculation since ancient times, it is an authentically modern experience...What Jan Morris does offer, through her life and her work, is a window on the wondrous possibilities of humankind." —Newsweek

"This book is a very well-written account of some of the emotional factors which eventually led the author, by then in his forties, to submit to expensive surgery in Casablanca." —The Washington Post Book World

"This is a beautiful book. I found it to be melancholic, courageous, and wise. That it's subject matter is Jan Morris's transsexual journey almost seems secondary to her incredible prose and the clarity of her honesty and introspection. Beyond the issue of gender, she searches for an answer to that most elusive of questions: who am I?" —Jonathan Ames

"The finest descriptive writer in our time, of the watercolor kind." —Rebecca West

"If there is anything typical about Miss Morris's experience, however, she has successfully disguised it." —The Times Literary Supplement
NYRB Classics, 9781590171899, 176pp.
Publication Date: May 16, 2006
About the Author
JAN MORRIS (1926–2020) has written over forty books, most recently, Thinking Again: A Diary.